Floor Removal In Modesto, Turlock, Tracy, And More Of CA
Get rid of rotten, old flooring to make room for new hardwood floors.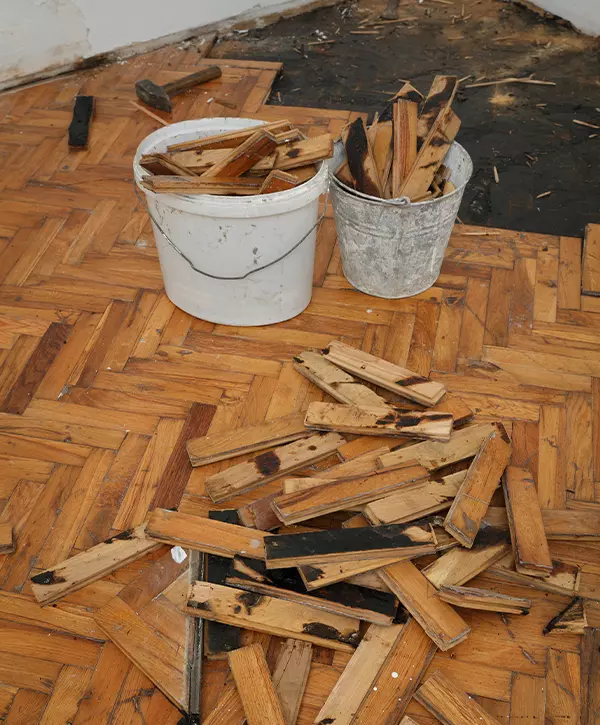 While it might seem like a small detail in the grand scheme of things, hardwood floor removal can make a world of difference when it comes to the success of your flooring project.
At KHB Flooring, our passion lies in offering comprehensive services that go beyond surface-level solutions. We're committed to providing you with the insights and expertise needed to create a space that truly reflects your style and serves your practical needs.
With KHB Flooring by your side, you have a contractor with:
Why Consider Hardwood Floor Removal?
By considering these four reasons for hardwood floor removal, you can make an informed decision that contributes to your home's long-term beauty, durability, and health.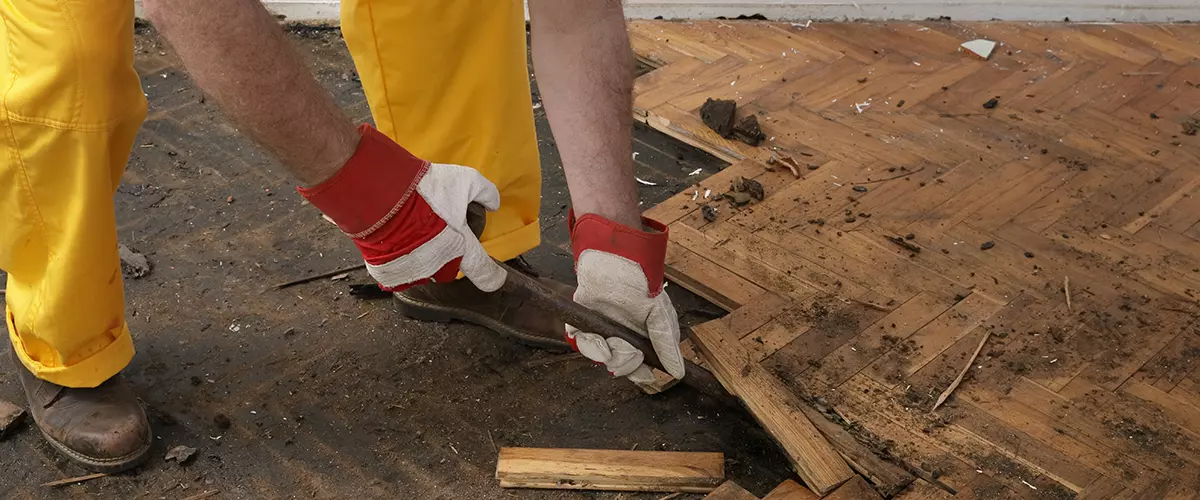 Ensuring a Solid Foundation for New Flooring
Your existing hardwood floor might have suffered wear and tear over the years, including scratches, dents, or water damage. Installing new flooring directly over a damaged subfloor could lead to an uneven, unstable, and less durable surface.
Hardwood floor removal provides a clean slate by eliminating any imperfections, allowing your new flooring to be installed on a smooth and level subfloor. This ensures the longevity and visual appeal of your new investment.
Addressing Structural and Subfloor Issues
Over time, subfloors can develop structural problems such as uneven surfaces, sagging, or rot due to moisture. Ignoring these issues can lead to further problems down the line.
Removing the hardwood floor allows flooring professionals to assess the subfloor's condition accurately. Any structural concerns can be addressed before new flooring is installed, preventing future headaches and costly repairs.
Enhancing Indoor Air Quality
Old hardwood flooring can accumulate dust, allergens, and potentially harmful particles between the planks, leading to poor indoor air quality. This can be particularly concerning for individuals with allergies or respiratory issues.
Hardwood floor removal includes thorough cleaning and preparation of the subfloor, eliminating hidden allergens and particles. Installing new flooring on a clean surface promotes healthier indoor air quality for you and your family.
Facilitating Modern Flooring Options
The design and flooring trends have evolved, offering various options beyond traditional hardwood. New flooring materials like engineered wood, laminate, vinyl, and tile provide durability, style, and functionality that might better suit your lifestyle and design preferences.
Removing the old hardwood floor allows you to explore and embrace these modern flooring options, creating a space that perfectly aligns with your aesthetic and practical needs.
At KHB Flooring, we tackled hundreds of
hardwood floor installation
projects and can help you get rid of your old floors in the process.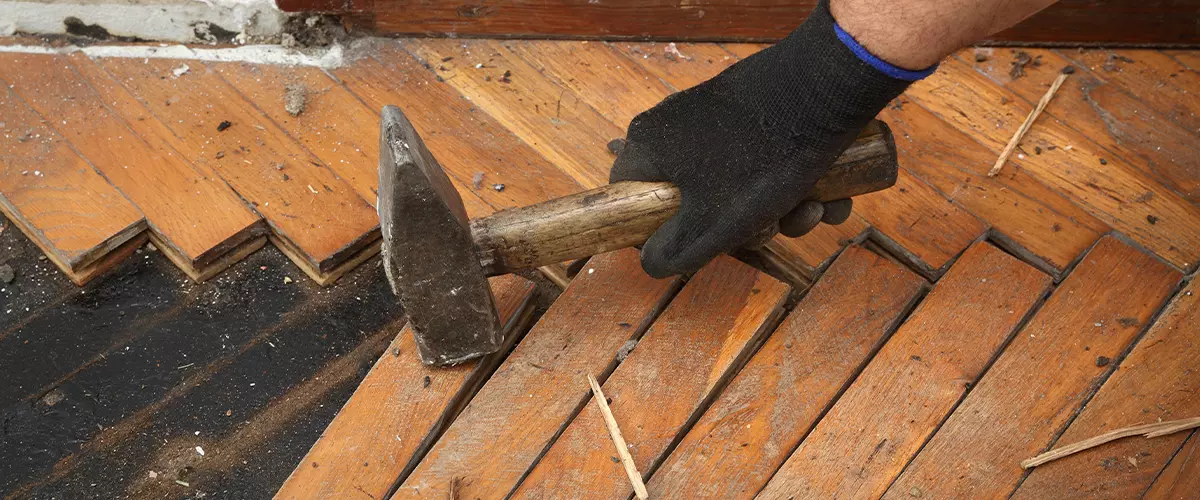 We've Worked Across Hundreds Of Homes In California
Read and learn from the experiences of other homeowners just like you.
What a great experience I had with Big Ben's flooring. We replaced all our carpet with new hard floors and the results are fantastic.
Ben and Raechel are delight to work with. They didn't have a problem coming out to multiple locations on more than one occasion and worked with me to ensure I was getting exactly what I wanted.
The installers; CJ, David and Nate were are very professional and worked efficiently, hearing any concerns I had and addressing them accordingly. Cannot recommend this company enough.
Will definitely be working with them again on future projects!
Had to get my kitchen remodeled before a big party and was on a time crunch.
KHB got the job done and I loved the outcome! They did great work and got it done a week before they predicted! They also checked in a lot with me making sure everything was going good!
Ryan Kelly and Bobby Runyan who I do believe are the owners were very helpful and made sure their guys were on the job.
They were great to work with and very understanding.
Signs That Your Hardwood Floors Need Removing
Your hardwood floors have faithfully served your home for years, but there comes a time when wear and tear take their toll. Recognizing when it's time to consider hardwood floor removal is essential for ensuring a successful flooring transition. Here are four clear signs that indicate your hardwood floors might be due for removal: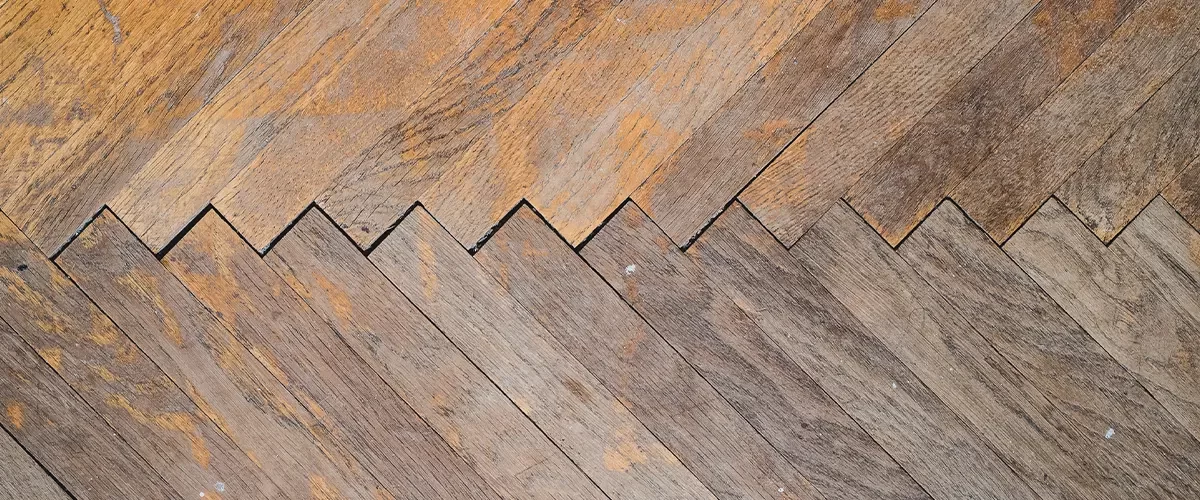 Visible Damage Beyond Repair
If your hardwood floors show extensive damage, such as deep scratches, gouges, or water stains that cannot be effectively repaired, it's a strong indicator that removal is necessary.
Attempting to cover up severe damage with new flooring can lead to an uneven surface and compromise the overall aesthetic of your space.
Frequent Buckling and Warping
Over time, exposure to moisture can cause hardwood floors to warp and buckle. These issues not only affect the appearance of your floors but also pose safety hazards.
If you notice significant warping, especially in areas prone to moisture, like kitchens or bathrooms, it might be time to consider removal to prevent further damage to your subfloor and potential mold growth.
Unresolved Subfloor Problems
Sometimes, issues with the subfloor can directly impact the condition of your hardwood floors. If you've experienced sagging, uneven surfaces, or noticeable squeaks, these issues could stem from underlying subfloor problems.
Hardwood floor removal provides an opportunity to address these subfloor concerns before installing new flooring, ensuring a stable foundation and preventing the recurrence of these issues.
Outdated Aesthetics and Design
Design trends evolve, and what was once stylish might now appear outdated. If your hardwood floors no longer align with your preferred aesthetic or the overall interior design of your home, it's worth considering removal to achieve a fresh, modern look.
Removing old hardwood floors opens the door to exploring a wide range of contemporary flooring options that better suit your vision and style preferences.
Get in touch with our flooring experts and we'll answer all your questions and help you determine whether or not it's time to remove your old hardwood floors that might pose a danger to your safety.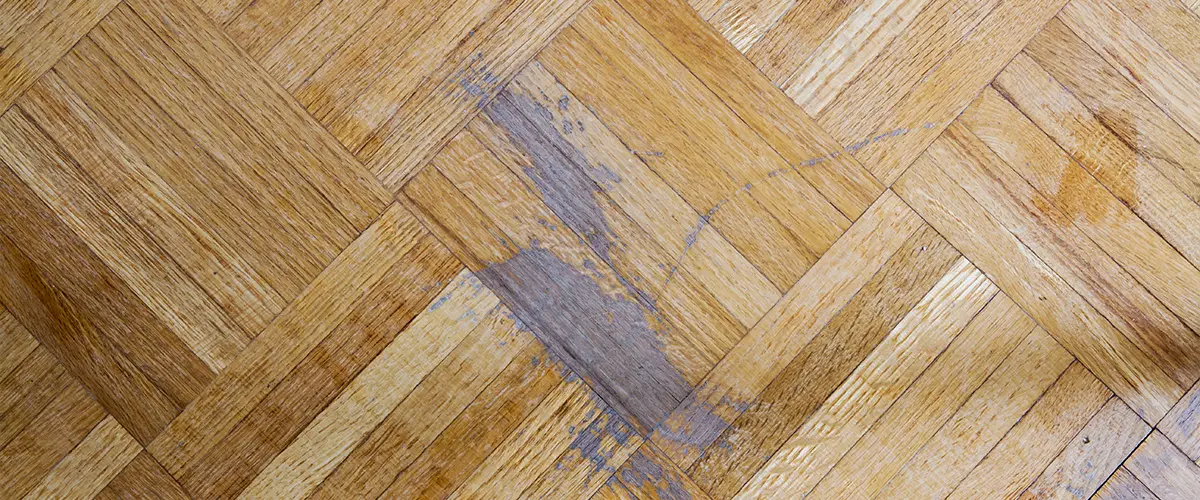 The Hardwood Floor Removal Process: Step-by-Step
At KHB Flooring, we understand that the hardwood flooring removal process can seem daunting. However, our experienced team is here to guide you through every step, ensuring a smooth and efficient transition. Here's a breakdown of the six essential steps you can expect when you choose us for your hardwood floor removal needs:
Step 1: Evaluation and Preparation
Our experts will begin by assessing the current condition of your hardwood flooring. We'll carefully examine each plank for damage and determine the best approach for removal.
Step 2: Removing Trim and Moldings
To access the edges of the hardwood flooring, we'll gently remove any trim or moldings that might be in the way. This step ensures a clean removal process and prevents damage to these elements.
Step 3: Detaching the Hardwood Planks
Using specialized tools and equipment, our skilled team will carefully remove the hardwood planks one by one. Circular saws and pry bars are employed to create controlled separation between the planks and the subfloor.
Step 4: Handling and Disposing of Materials
We take pride in responsible waste management. The removed hardwood planks are handled carefully, and we ensure that they are disposed of or reclaimed according to environmentally friendly practices.
Step 5: Addressing Subfloor Concerns
With the hardwood removed, our team will inspect the subfloor for any damage or issues that might affect the new flooring installation. Any necessary repairs or leveling will be addressed at this stage to guarantee a stable foundation.
Step 6: Thorough Cleaning and Prep
Our final step involves a thorough cleaning of the subfloor. We'll remove any remaining debris, adhesive residues, or nails, leaving a clean and smooth surface ready for your new flooring installation.
Contact us today to learn more about how we can transform your space by seamlessly removing old hardwood floors and creating the perfect foundation for your new flooring vision.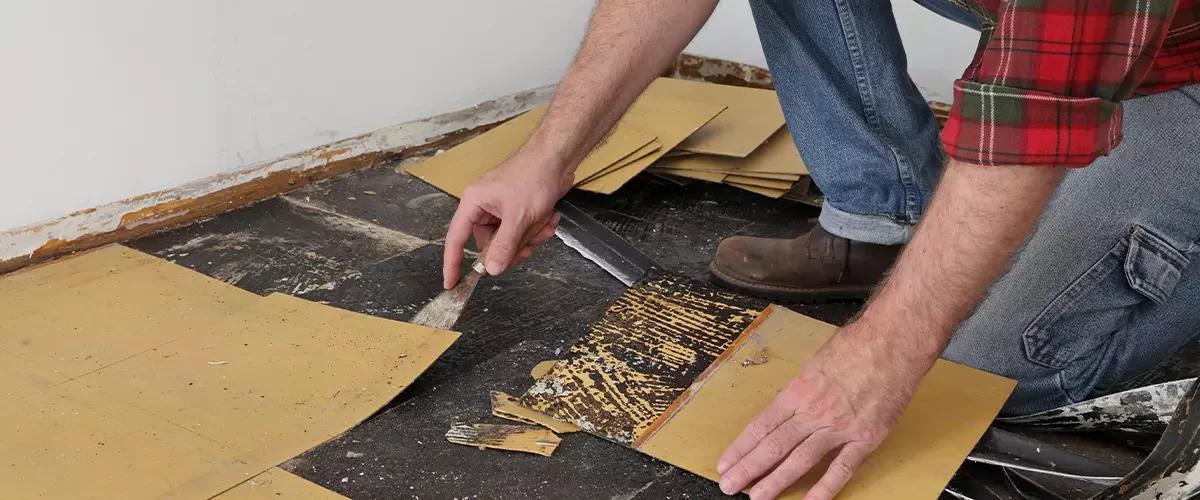 Hardwood Floor Removal FAQs
Enjoy New Floors Without Worrying About The Old Ones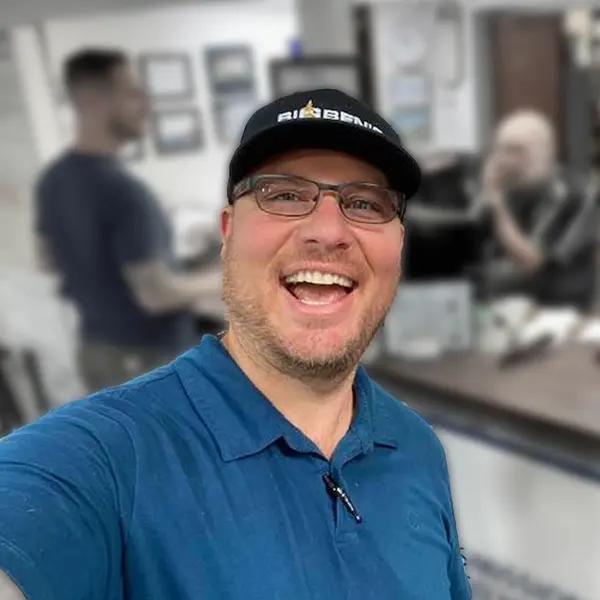 At KHB Flooring, we're passionate about helping you achieve the home of your dreams with our expert hardwood floor removal and installation services. If you're ready to revitalize your space and lay the foundation for stunning new floors, we're here to make it happen.
Don't hesitate to reach out to us at (209) 487-9663. Whether you have questions about the hardwood floor removal process, need a free consultation, or are eager to get your project underway, our friendly team is ready to assist you every step of the way.