LVP Flooring Installation In Manteca, CA
If you're interested in a LVP flooring installation service in Manteca, CA, our guide has all the information you need!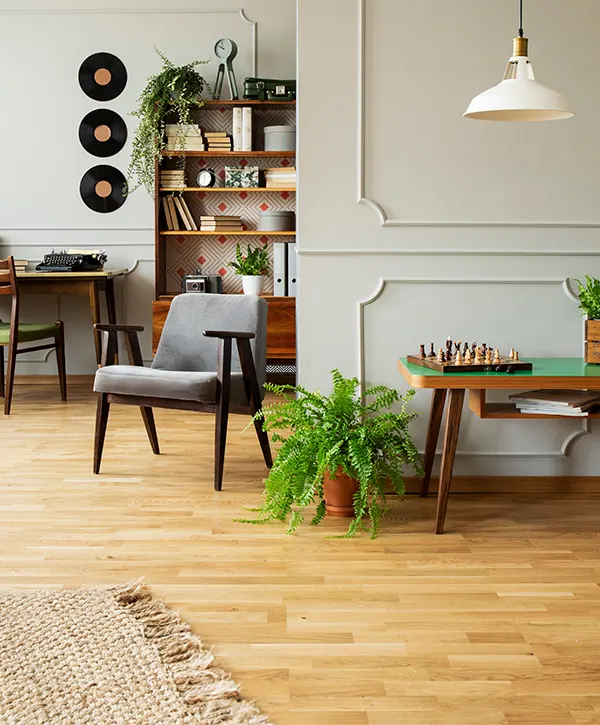 Many homeowners in Manteca, CA, have become aware of the benefits of luxury vinyl flooring and are now looking for professional installation services. We also love taking on these types of projects.
If you need help with your flooring in Manteca, CA, and nearby areas, turn to KHB Flooring for expert assistance. Our years of experience have taught us how to bring out the best in every home. If you're a homeowner looking to improve your floors, trust in our passion and commitment to the craft.
Revamp your home's aesthetics with our installation service of luxury vinyl flooring. Our exceptional service will elevate the beauty of your space, creating a visually impressive and breathtaking look. Impress your guests with the stunning appearance of your home!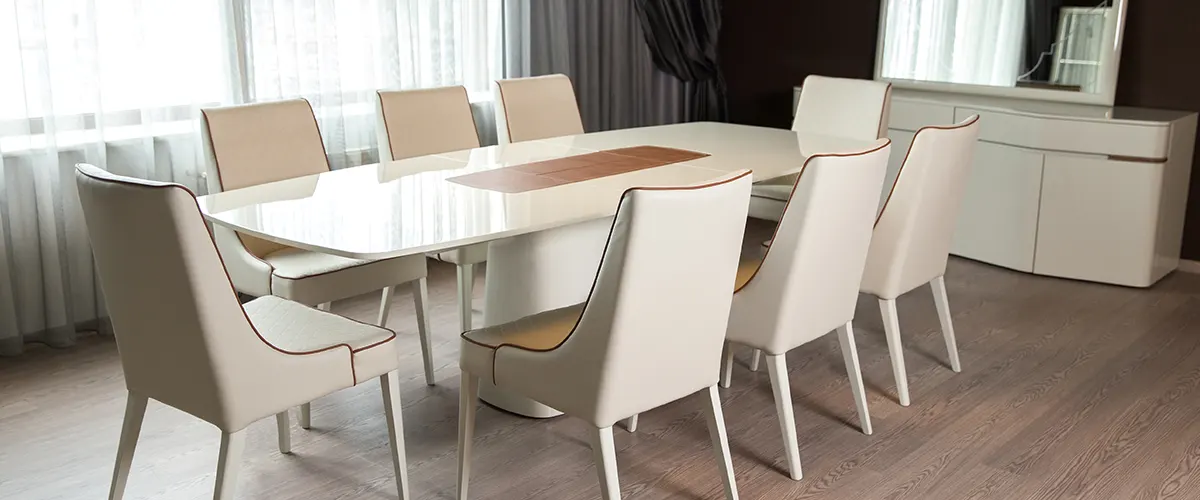 Luxury Vinyl Flooring That Comes With Extra Perks
We go above and beyond our contract terms to ensure you have an exceptional flooring installation experience. Our goal is to make sure you are completely satisfied with our services.
We are committed to providing additional benefits and excellent customer service, giving you peace of mind knowing that your investment is valued by a dedicated professional.
World-Class Luxury Vinyl Flooring Installation Right At Your Doorstep
KHB Flooring offers top-notch flooring services for your residential property. Our goal is to surpass your expectations and ensure that you are fully content with our product. We guarantee transparent communication and honesty throughout your luxury vinyl flooring project.
Our team is committed to simplifying the installation process and minimizing any worries you may have about remodeling in order to lessen the stress often associated with these types of projects.
Our Customers In Manteca Love Their New Floors!
Our experience was very pleasant as well as a pleasant atmosphere. They (Ben and wife) showed us exactly what we wanted. We will soon be having measurements done.
Can't wait for our next visit. His wife set us up for an appointment right away. Very nice experience.
Excellent service! Big Ben's Flooring is your one stop shop from selection all the way to installation.
I'm more than happy with our new flooring throughout my home
Type Of Upgrades And Materials
Choosing the right flooring can greatly affect the overall ambiance of your home, as different types offer varying benefits, such as enhanced aesthetics, improved durability, or simplified installation. The flooring option you should choose ultimately depends on the features that matter most to you. Here are some of the best vinyl flooring options you may want to consider.
Self-Adhesive Vinyl Tiles and Planks
To install self-adhesive vinyl tiles and planks, simply remove the protective layer on the back and firmly press them into place. If you want to change your floors later on, these tiles can be easily removed. They have adhesive layers on the back that stick with pressure.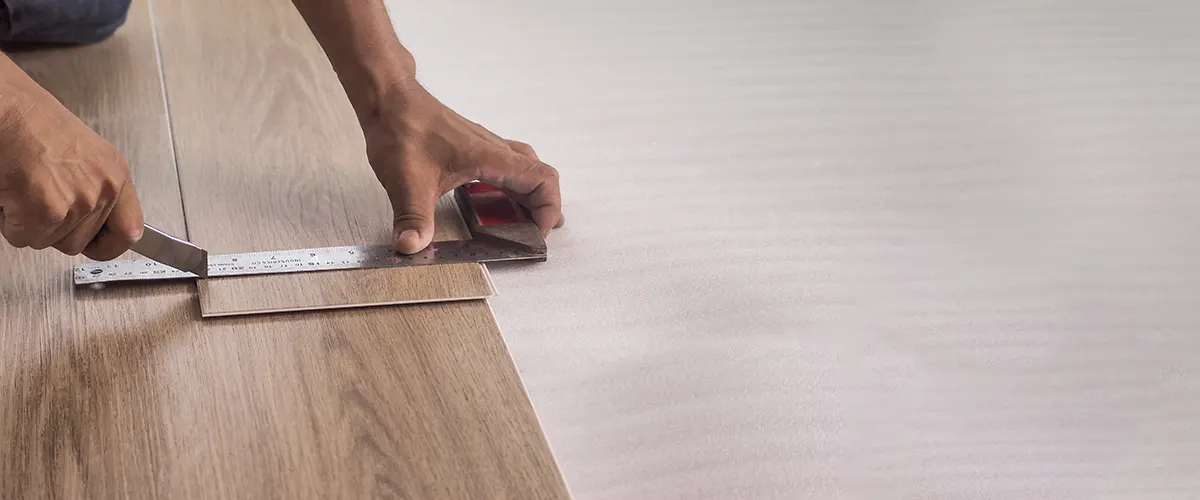 Loose-lay vinyl planks are a type of flooring that doesn't require adhesives or locking systems to install. Their bottom layer provides a secure grip that keeps the tiles firmly in place through friction. To add more security, you can apply adhesive just around the room's corners to prevent the planks from rolling out.
For many reasons, vinyl planks that can be easily installed without adhesive, also known as loose-lay vinyl planks, are an excellent flooring option. They can be removed and reused without leaving any marks, and they are known for being extremely durable, making them a popular choice among vinyl flooring options.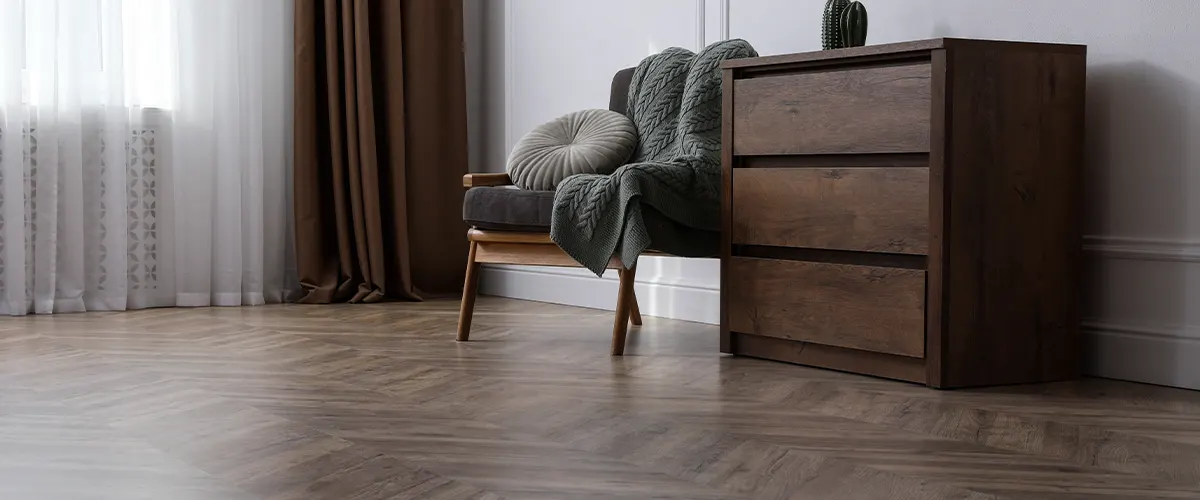 Interlocking Vinyl Tiles and Planks
Interlocking vinyl tiles are a type of flooring that can be easily installed without the need for glue or adhesives. You can connect the tiles by snapping them together. It is important to note that, in case you need to remove a single tile, you will have to remove the entire row since they are all connected.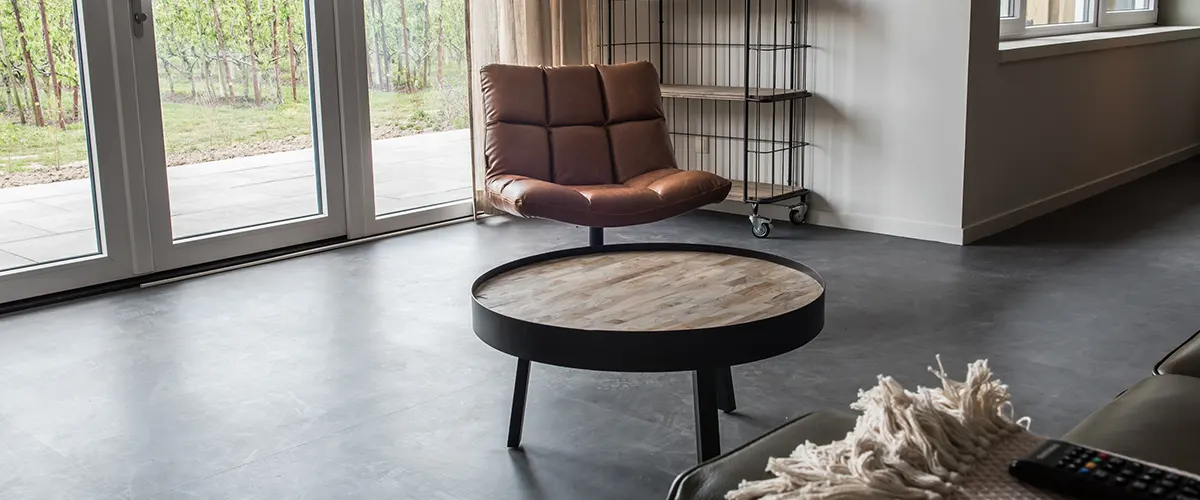 Installing glue-down LVT flooring can be more complex than self-adhesive tiles since you require a type of adhesive that is compatible with vinyl floors.
Nevertheless, glue-down Luxury Vinyl Tile flooring provides enhanced durability and is less prone to movement or shifting when stepped on compared to self-adhesive tiles.
To install glue-down LVT tiles, first apply adhesive to the surface and firmly press each tile into place. However, removing this flooring can be difficult as most adhesives don't easily melt or dissolve. It's advisable to seek professional help from someone experienced in handling this flooring type for removal.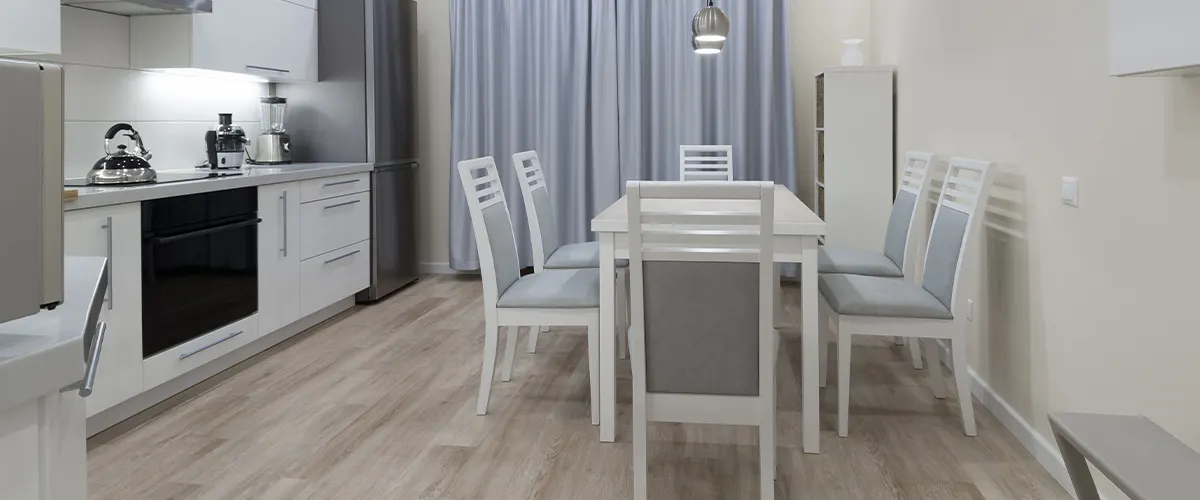 High-Quality Luxury Vinyl Flooring Installation
You can view some examples of the high-quality luxury vinyl flooring installations that our experienced team has done here.
Luxury Vinyl Flooring Installation - Now Easier Than Ever Before!
We can ensure that installing your luxury vinyl flooring in Manteca, CA is a stress-free experience for you and your family. Our process is designed with your needs in mind and promises seamless results. You can relax and enjoy the beautiful outcome without any worries!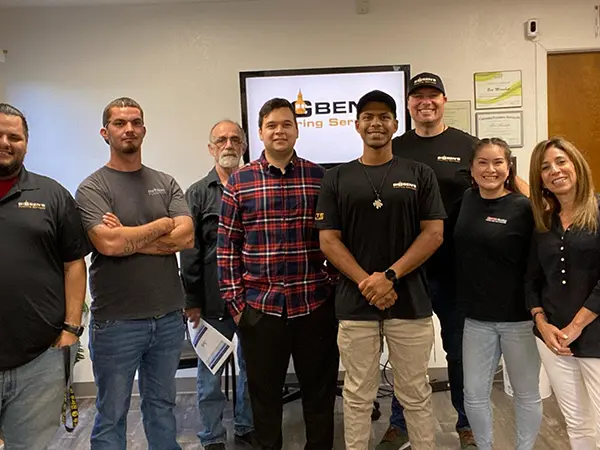 We help you define your vision for your floors.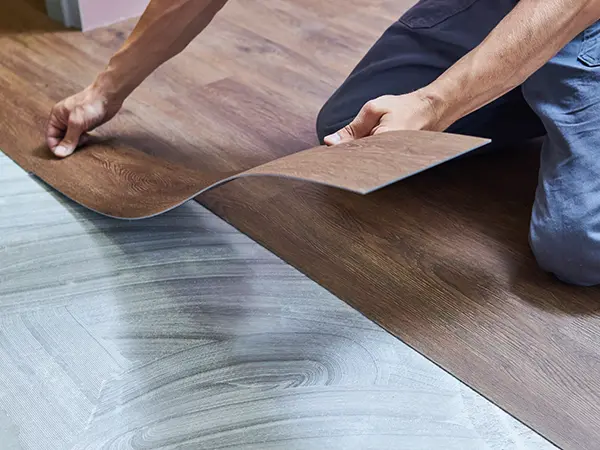 We bring your vision to life with a professional installation.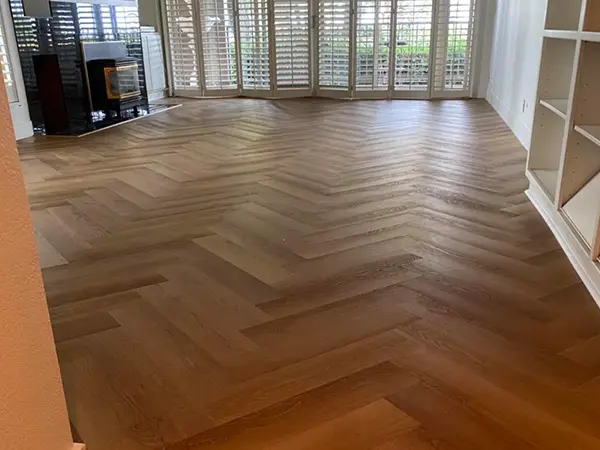 Enjoy floors that will make you smile with every step.
Frequently Asked Questions
If you're looking for an inexpensive and reliable way to upgrade your flooring in Manteca, CA, you might want to think about getting luxury vinyl plank (LVP) flooring. The price for this ranges from $2.55 to $3.99 per square foot, depending on the type and size of material you choose.
The duration of installing an LVP flooring system depends on factors like the layout's size and complexity or the subfloor's condition. On average, we can install 300 to 600 square feet per day. If it's a house with three bedrooms and two bathrooms, the installation will take around 5-7 days.
Our team at KHB Flooring consists of talented in-house installers who are well-prepared for your project. The number of workers assigned to your flooring job will be determined by its size, with one to three professionals working on it at once.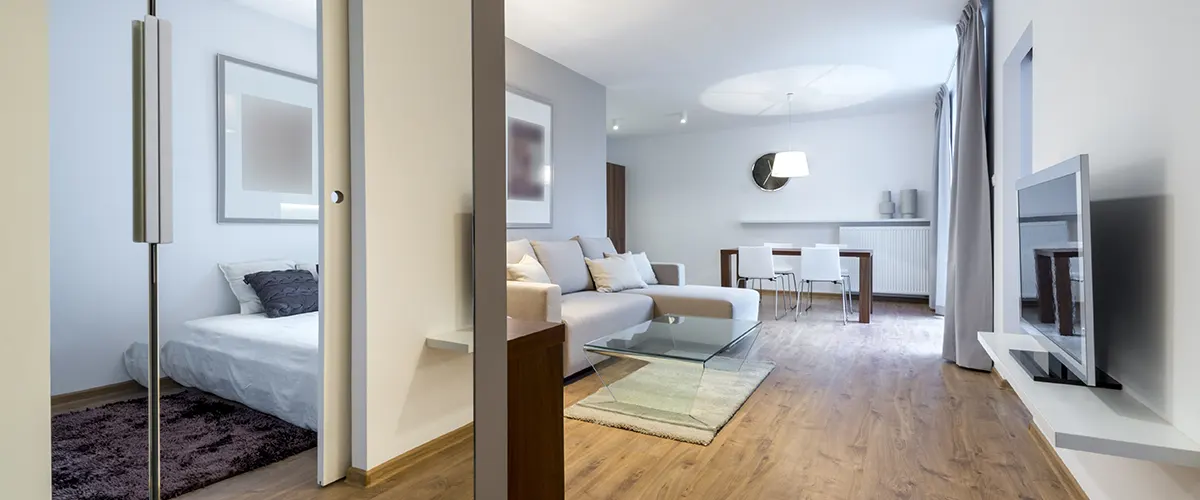 The Only Luxury Vinyl Flooring Installer That's Worth The Investment
Are you looking for a dependable service provider for your flooring project? We know that you want a beautiful result and a seamless experience. We realize how challenging it can be to find reliable experts, which is why we're here to assist you.
We offer a comprehensive and valuable flooring service with the goal of meeting or exceeding your expectations in every aspect. Our aim is to make sure that you're completely satisfied with every inch of your new floor.
Besides a new LVP floor, you'll also get:
Complement Your Home With High-Quality LVP Flooring!