Vinyl Flooring Installation In Manteca, CA
If you're interested in a vinyl flooring installation service in Manteca, CA, our guide has all the information you need!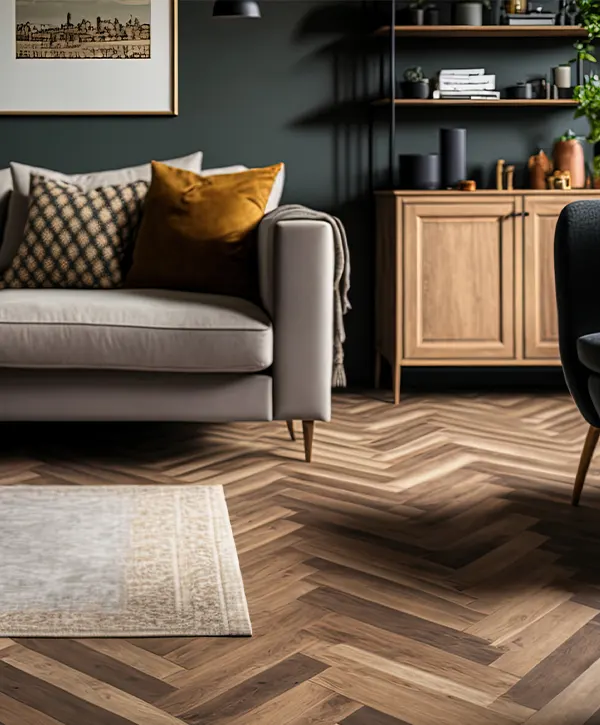 Many residents in Manteca, CA, are now realizing the great benefits of vinyl flooring and seeking professional help installing it. As professionals, these projects are very satisfying as they are some of our favorite ones!
KHB Flooring has been a trusted name in Manteca, CA, and nearby areas for years, providing floor treatments to enhance the beauty of homes. We are dedicated to our passion for bringing love to floors, making us the go-to source for homeowners.
Our vinyl floor installation service can transform your home and make a lasting impression on your visitors. It will significantly enhance the aesthetics of your space, resulting in a stunning and impactful look.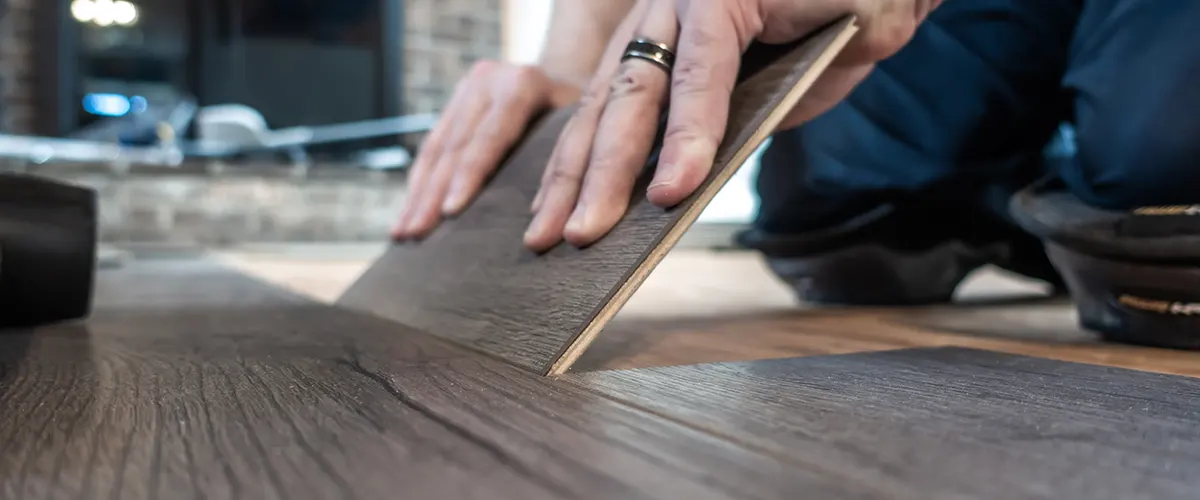 Vinyl Flooring That Comes With Extra Perks
Our aim is to go above and beyond our contractual obligations to deliver exceptional quality. We strive to ensure that your home's flooring installation exceeds your expectations and leaves you completely satisfied.
You can be assured that all the extra benefits of working with a professional who truly values their clients and their investments will be provided.
The Best Vinyl Flooring Installation Right At Your Doorstep
KHB Flooring is dedicated to delivering flooring services of unmatched quality that will exceed your expectations. We recognize the significance of having a well-made home and aim to offer outstanding customer service to all homeowners who select our services. Get ready for an exceptional experience and be pleased with our product!
We promise to communicate with you honestly and ensure that our team members maintain their integrity while handling your vinyl flooring project. Our goal is to make the installation process hassle-free so that you can have a stress-free remodeling experience. We aim to make this project worry-free from start to finish when you assign it to us.
Our Customers In Manteca Love Their New Floors!
Our experience was very pleasant as well as a pleasant atmosphere. They (Ben and wife) showed us exactly what we wanted. We will soon be having measurements done.
Can't wait for our next visit. His wife set us up for an appointment right away. Very nice experience.
Excellent service! Big Ben's Flooring is your one stop shop from selection all the way to installation.
I'm more than happy with our new flooring throughout my home
Different types of flooring will always give a unique feel to your home. Some may look more attractive, while others may be more durable or easier to install. Your choice will ultimately come down to your priorities and preferences.
Vinyl flooring has many benefits. It is highly resistant to moisture and can withstand high-traffic areas. It is also very durable. Many different styles of vinyl flooring are available, including plank, sheet, tile, and peel & stick.
Additionally, there are many colors and designs to choose from, including realistic wood looks and ceramic tiles. Whether you want a modern or traditional look, vinyl flooring offers classic beauty while remaining practical.
Vinyl plank flooring is well-known for its durability and sturdiness, thanks to its foam core, and is very easy to install. Using a simple tongue-and-groove system, its click-lock mechanism enables it to be installed quickly over various surfaces, including concrete, tile, wood, or even existing vinyl floors. Vinyl plank flooring offers numerous advantages for your home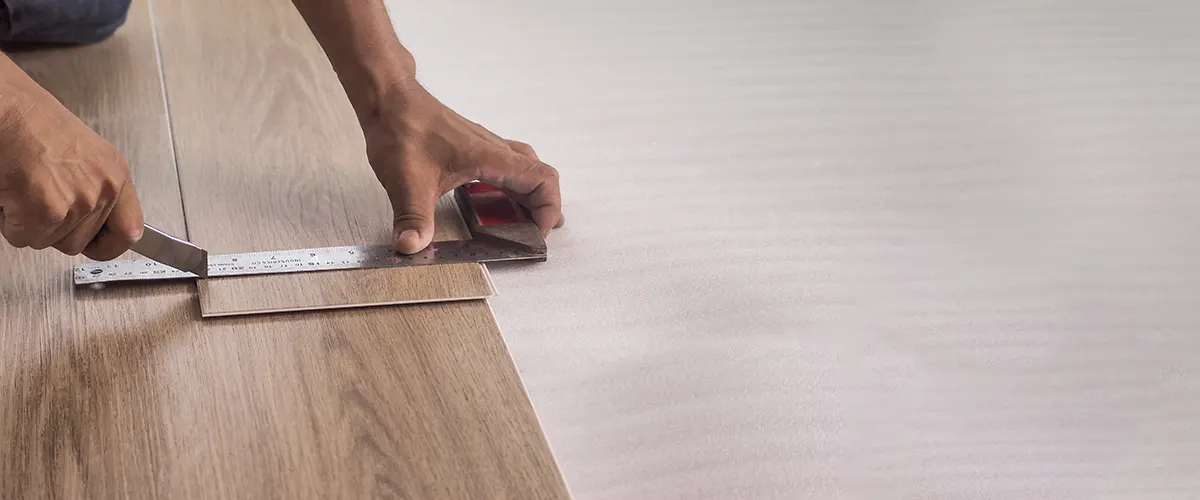 Sheet vinyl is a durable flooring option that comes in various colors and styles. It is typically sold in rolls that are either 6 or 12 feet wide. With its sturdy fiberglass core, sheet vinyl won't tear, curl, expand, or contract. This makes it an excellent choice for use throughout the entire house, even in wet areas.
Sheet vinyl flooring consists of layers of PVC in different colors and designs, attached to a felt or fibrous material layer, with a protective outerwear layer on top to protect the PVC film. The installation process can involve full glue-down application, perimeter adhesion, or being placed "floating" over an underlayment.
Vinyl sheet flooring has three different backings with different installation requirements.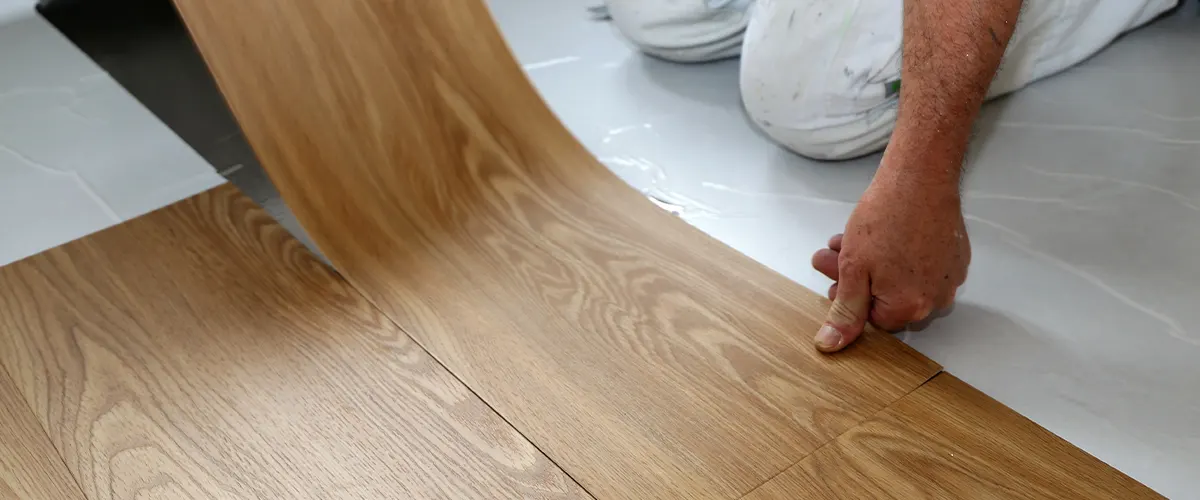 Vinyl Composite Tile Flooring
Manufacturers use natural pulverized limestone, filler materials, thermoplastic binders, and color pigments to create modern vinyl flooring tiles. These are combined to create a mixture known as vinyl composite tiles (VCT). The mixture is then fused into solid sheets and cut into individual pieces for installation.
Compared to sheet vinyl, VCT requires more maintenance due to its porous surface. It needs frequent polishing to protect it, while sheet vinyl must only be swept and mopped for maintenance.
Vinyl tile installation is a simple process since the pieces are easy to cut to fit even in tight areas. Also, since it's fixed with either a towel-on adhesive or a peel-and-stick adhesive, replacing damaged tiles is easy by just removing and replacing the affected tiles.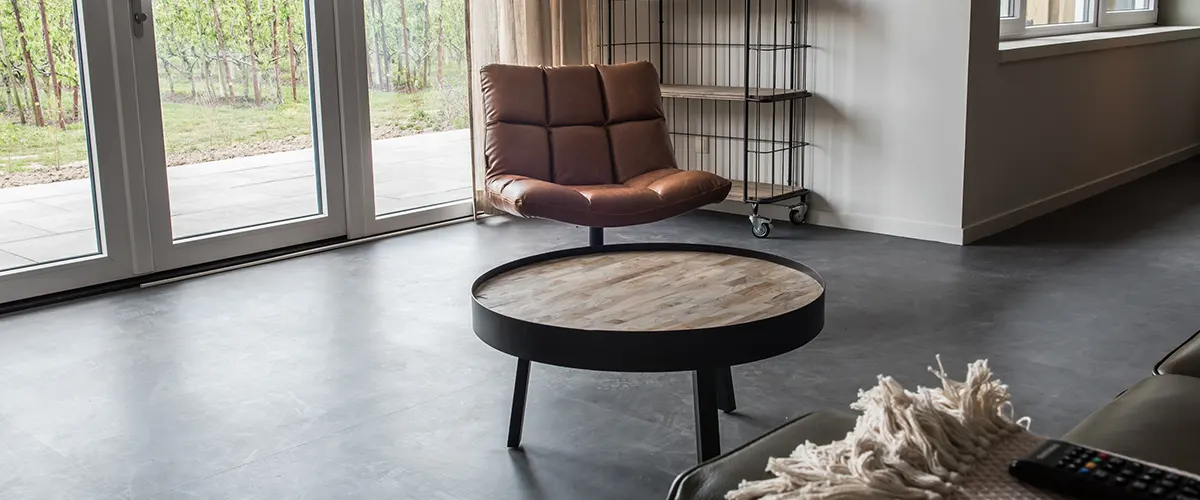 Vinyl Peel & Stick Flooring
These tiles and planks come with an adhesive backing for simple installation. Just line up your room with the tile lines and make accurate cuts as needed for a perfect fit.
There are various options of vinyl flooring available for different purposes. These options include affordable groutable vinyl flooring tiles that can resist water for kitchens and bathrooms and peel-and-stick vinyl tiles suitable for commercial or residential spaces with a low gloss finish that is easy to clean.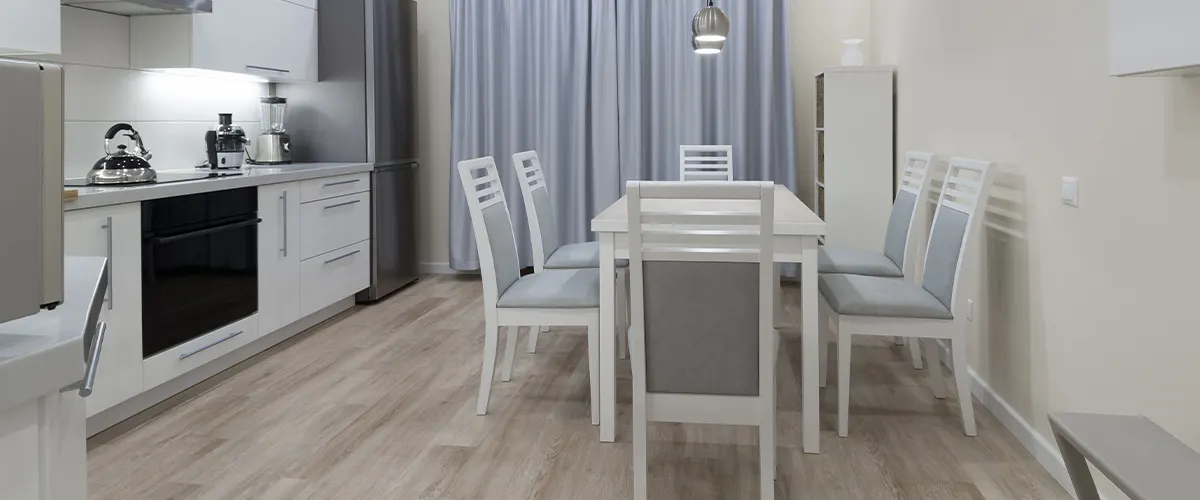 Exquisite, High-Quality Vinyl Flooring Installation
We are experts in the craft with countless years of experience installing vinyl flooring. Our expertise shines through with every installation – here's a look at our work!
Vinyl Flooring Installation - Now Easier Than Ever Before!
Let us make your experience with flooring installation effortless and smooth. We will work on vinyl flooring in Manteca, CA to ensure you are always our number one priority. You'll be delighted by the results without any of the stress!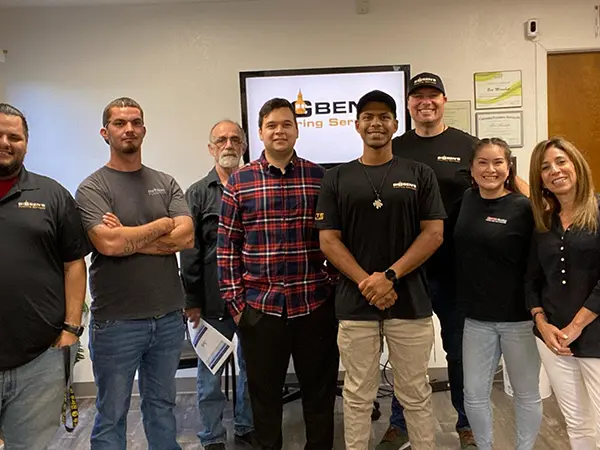 We help you define your vision for your floors.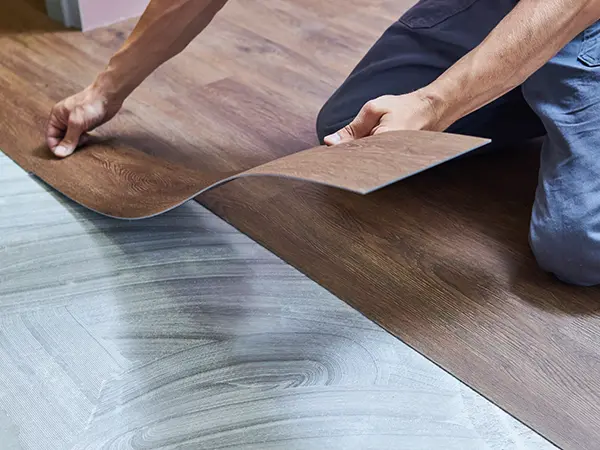 We bring your vision to life with a professional installation.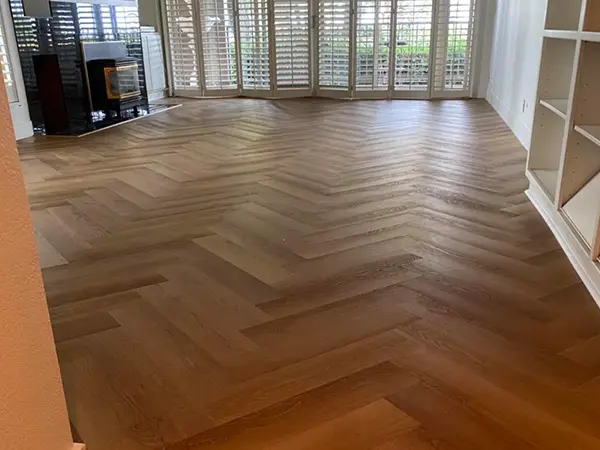 Enjoy floors that will make you smile with every step.
Frequently Asked Questions
Vinyl flooring installation can cost between $1.66 and $2.22 per square foot. The overall expense is influenced by different factors such as the type of vinyl, the size of the project, and the complexity of the installation process. Choosing high-quality materials and hiring professional installers can result in beautiful floors for your business or home without breaking the bank.
The installation of a vinyl floor can vary in time from one to two days, depending on the size and complexity of the project. For a kitchen and two bathrooms renovation, it typically takes up to two full days.
KHB Flooring provides reliable installation services for all types of flooring projects. Our team of highly-trained and experienced in-house installers will be present on-site to work on your project, regardless of whether it is a small-scale makeover or a complete renovation. Our team typically consists of one to three professional technicians who are ready to assist you in bringing your dream floor to life.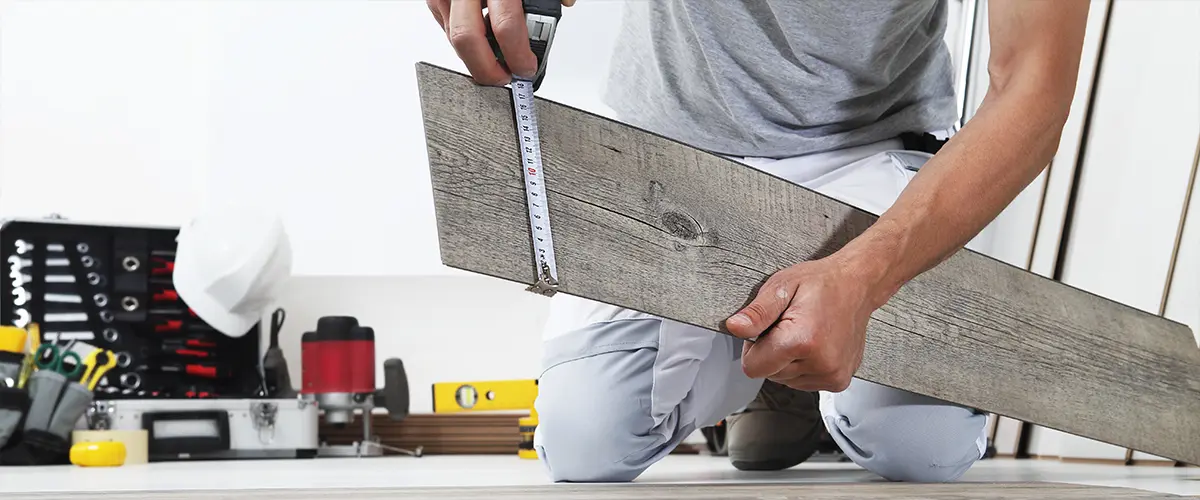 The Only Vinyl Flooring Installer That's Worth Your Time
Are you looking for a reliable flooring service provider to achieve excellent results and a convenient transaction experience? Finding trustworthy expertise can be difficult, but we strive to simplify the process for you. Allow us to assist you in your search.
Our company offers a flooring service that is worth your investment. We make sure that you are happy with the results at every stage of installation. Our goal is to not only meet but exceed your expectations, leaving no area untouched.
With us, you're getting:
Complement Your Home With High-Quality Vinyl Flooring!