Vinyl Flooring Installation In Modesto, CA
If you're interested in a vinyl flooring installation service in Modesto, CA, our guide has all the information you need!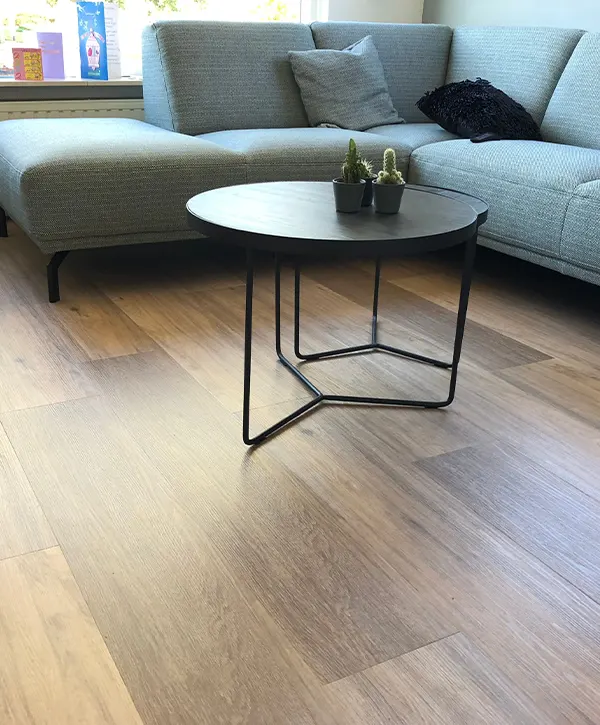 Modesto, CA, residents are beginning to recognize the remarkable potential of vinyl flooring and recruiting a professional for its installation. We find these projects incredibly fulfilling – they're some of our favorites!
For years, KHB Flooring in Modesto, CA, and its neighboring areas have been the preeminent name for all things floors. We are passionate about bringing beauty to every home through our floor treatments, and this dedication has made us a trusted source for homeowners who want to give their floors an extra boost of love.
Transform your home with our impeccable vinyl floor installation service and leave a lasting impression on all who enter! Our services will dramatically elevate your space's aesthetics, creating an absolutely stunning, impactful look.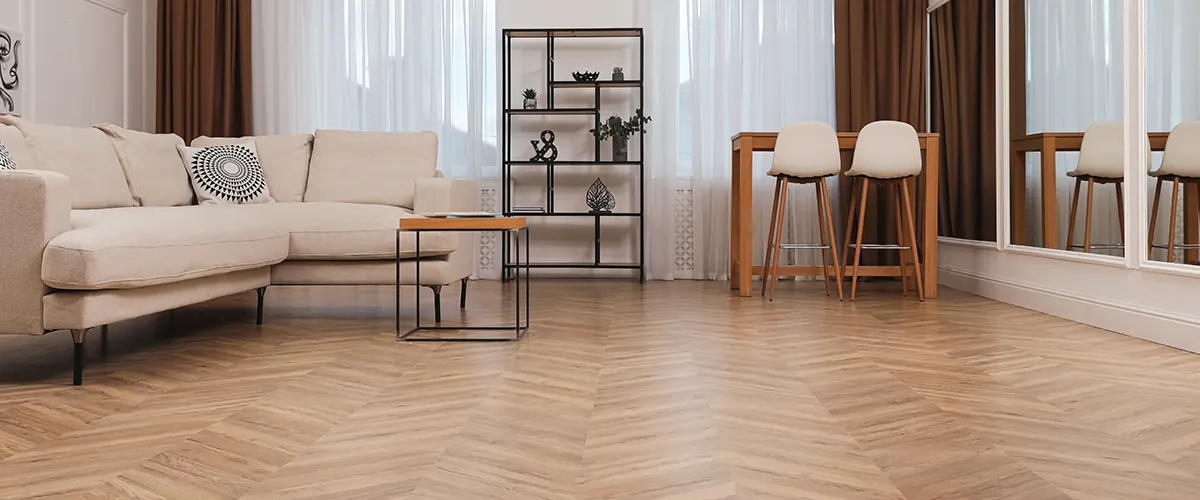 Vinyl Flooring That Comes With Extra Perks
We don't accept anything but the best, so we exceed and surpass our contract requirements. Our objective is to ensure you are wholly satisfied with your new flooring installation in your home. Therefore, you can rest easy that all of the additional benefits from working with a professional who genuinely cares about their customers and what they have invested will be included!
The Best Vinyl Flooring Installation Right At Your Doorstep
At KHB Flooring, we are committed to providing unparalleled floorng services that will meet and surpass your expectations. We understand the importance of a quality home and strive to provide world-class customer service for every homeowner who chooses us! Prepare for an exceptional experience that will delight you with our product.
When you entrust your vinyl flooring project to us, we guarantee honest communication and that all of our team members will act with integrity. We strive to make the installation process as easy as possible so you can enjoy a stress-free remodeling experience. Our aim is for this project to be worry-free from start to finish!
Our Customers In Modesto Love Their New Floors!
As vinyl flooring continues to rise in popularity among Modesto homeowners, many are on the search for a reliable professional to handle their projects. This is what they have to say about the top choice in town!
Our experience was very pleasant as well as a pleasant atmosphere. They (Ben and wife) showed us exactly what we wanted. We will soon be having measurements done.
Can't wait for our next visit. His wife set us up for an appointment right away. Very nice experience.
Excellent service! Big Ben's Flooring is your one stop shop from selection all the way to installation.
I'm more than happy with our new flooring throughout my home
The truth is that various types of flooring will alwayss create a distinct ambiance in any home. Some may look more stunning, others are likely to be more resilient, while some can be conveniently put in place. It all depends on what you're prepared to give up or make do with.
Vinyl flooring is extremely durable, resilient to moisture, and can withstand high-traffic areas. Plus, it's available in various styles, including plank, sheet, tile, and peel & stick, with various colors and designs ranging from realistic wood looks to ceramic tiles. Whether you're looking for something modern or more traditional vinyl offers classic beauty while being practical too!
Vinyl plank flooring is renowned for its strength and rigidity due to its foam core and being incredibly effortless to install. The click-lock technique allows these vinyl planks to be installed over several surfaces, such as concrete, tile, wood, or even other existing vinyl floors, with a swift tongue-and-groove lock system. Vinyl plank flooring is perfect for your home as it has a wide range of benefits: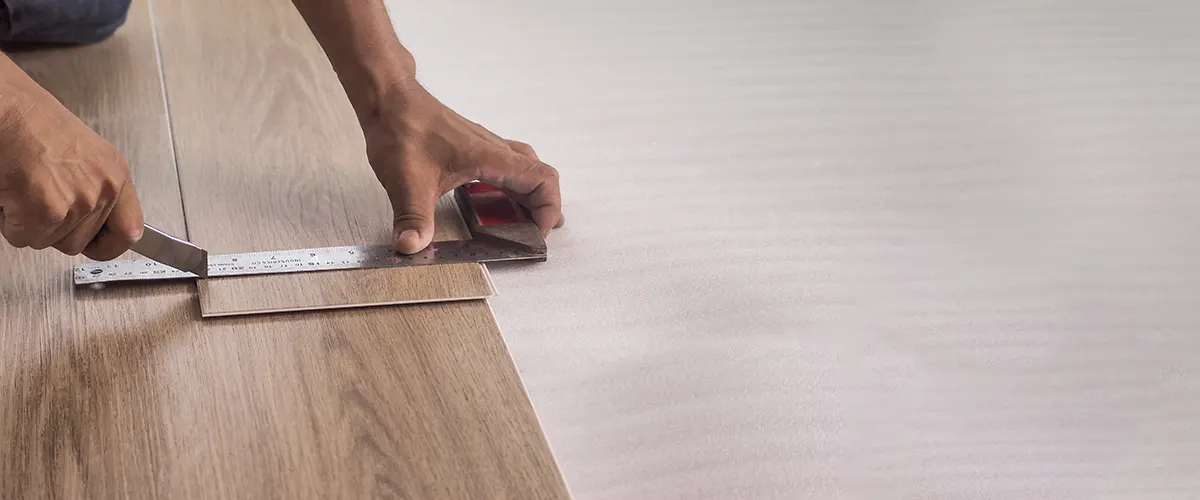 Sheet vinyl, available in a collection of colors and styles, comes in rolls that are generally 6 or 12 feet wide. Its fiberglass core is so reliable it will never tear, curl up, expand, or contract – making sheet vinyl ideal for installation throughout the entire house, including wet areas!
Sheet vinyl flooring is composed of PVC layers with various colors and designs connected to a layer made from felt or fibrous materials. On top lies a protective outerwear layer that safeguards the PVC film. The installation process can vary, including full glue-down application, adhesion at the perimeter, and even "floating" over an underlayment.
Vinyl sheet flooring has three different backings with different installation requirements.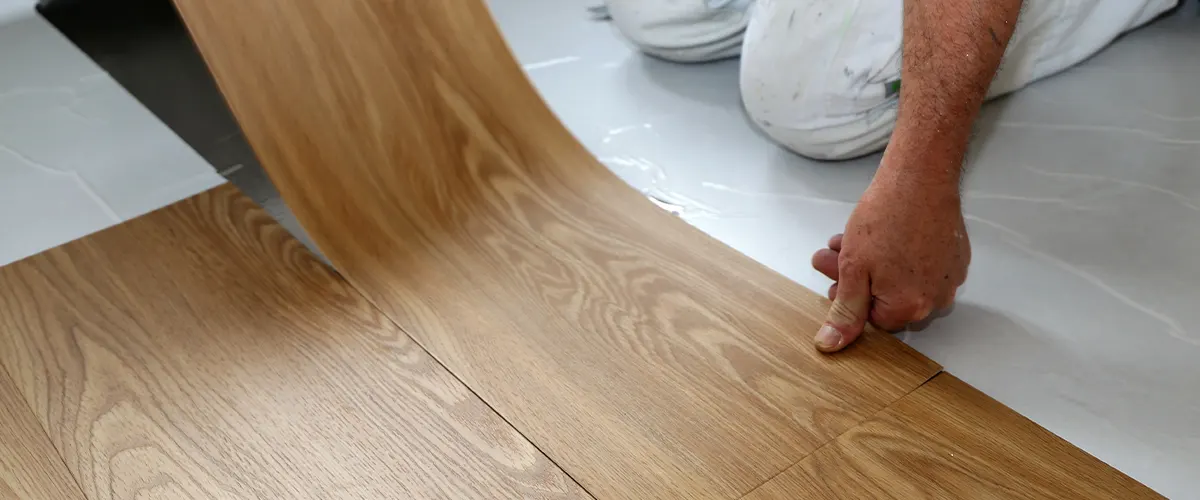 Vinyl Composite Tile Flooring
Manufacturers combine natural pulverized limestone, filler materials, thermoplastic binders and color pigments to create modern vinyl flooring tiles. Known as vinyl composite tiles (VCT), the mixture is fused into solid sheets and then cut into individual pieces for installation.
In comparison to sheet vinyl, VCT demands a bit more attention; its porous surface requires frequent polishing for protection, whereas sweeping and mopping are generally the only maintenance required of the latter.
Installing vinyl tile is quite easy as the individual pieces are simple to cut and effortlessly fit into awkward spaces. In addition, since it's glued down with either a towel-on adhesive or peel-and-stick adhesive, repairs are just as hassle-free by simply removing and replacing damaged tiles!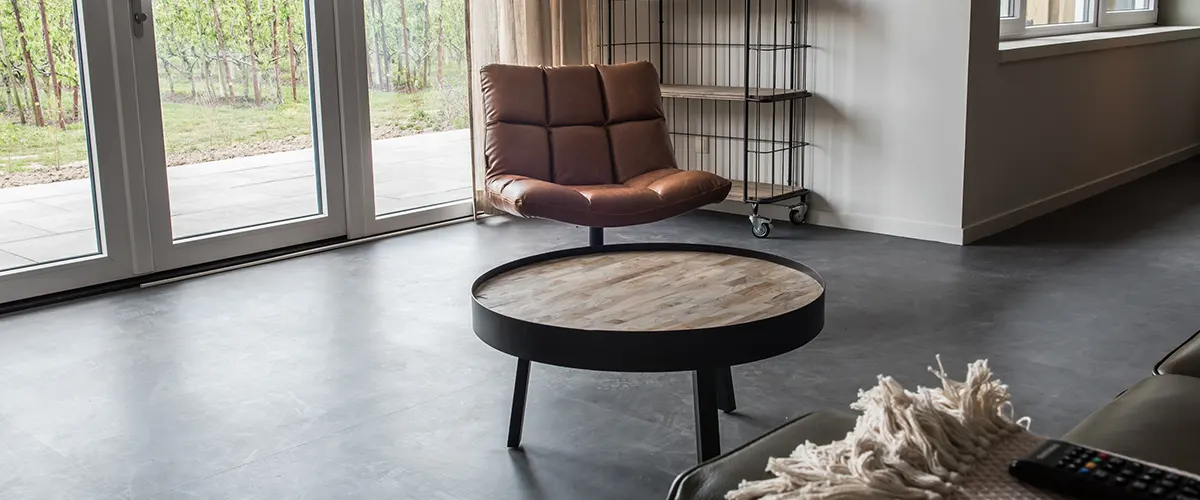 Vinyl Peel & Stick Flooring
If you're looking for a simple DIY project that looks outstanding, why not choosee peel-and-stick vinyl flooring? This flooring type comes in tiles and planks with an adhesive backing. Installing is easy, too—align the edges of your chosen room with the tile lines, then make precise cuts as necessary for a perfect fit!
From groutable vinyl flooring tile that is cost-efficient and water-resistant for kitchens and bathrooms to peel-and-stick vinyl tiles perfect for commercial or residential spaces featuring a low gloss finish that's easy to clean – there are so many choices when it comes to this type of vinyl flooring.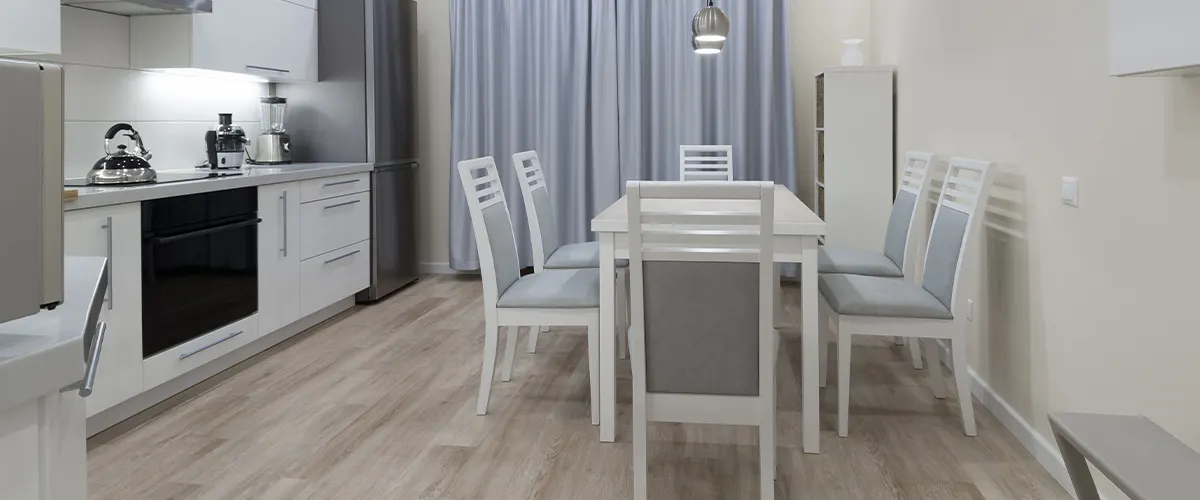 Exquisite, High-Quality Vinyl Flooring Installation
We are experts in the craft with countless years of experience installing vinyl flooring. Our expertise shines through with every installation – here's a look at our work!
Vinyl Flooring Installation - Now Easier Than Ever Before!
Let us make your experience with flooring installation effortless and smooth. Together, we will work on vinyl flooring in Modesto, CA to ensure you are always our number one priority. You'll be delighted by the results without any of the stress!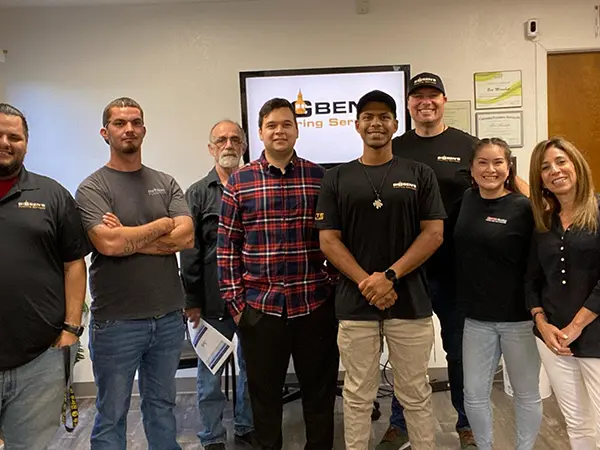 We help you define your vision for your floors.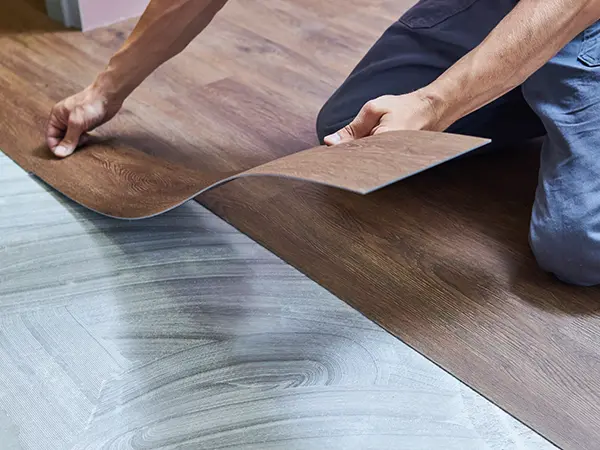 We bring your vision to life with a professional installation.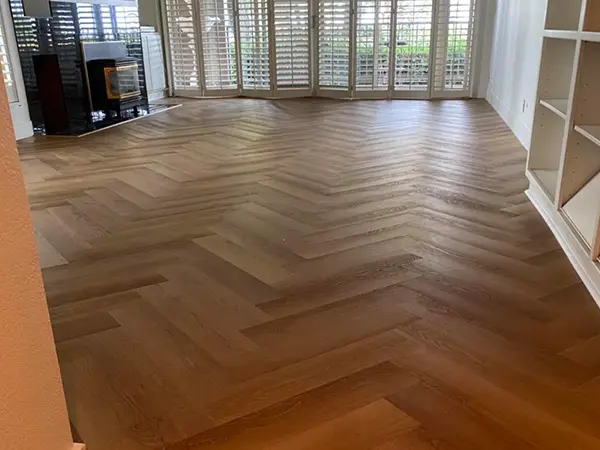 Enjoy floors that will make you smile with every step.
Frequently Asked Questions
Vinyl flooring installation comes with an expansive price tag, ranging from approximately $1.66 to more than $2.22 per square foot depending on several factors – including the type of vinyl chosen, the size of the job, and the complexity of the process itself. By investing in quality materials and professional labor, your business or home can benefit from stunning new floors at a reasonable cost!
Installing a vinyl floor can take anywhere from one to two days, this timeframe being contingent on the size and intricacy of the project. Generally speaking, you're looking at up to two full days for a kitchen/two-bathroom renovation.
Here at KHB Flooring, we offer our customers the peace of mind that their project is in reliable hands. Our highly-trained and experienced in-house installers will be on-site for your job – whether it's a small-scale makeover or an extensive renovation. You can expect anywhere from one to three professional technicians ready to help you bring your dream floor into reality!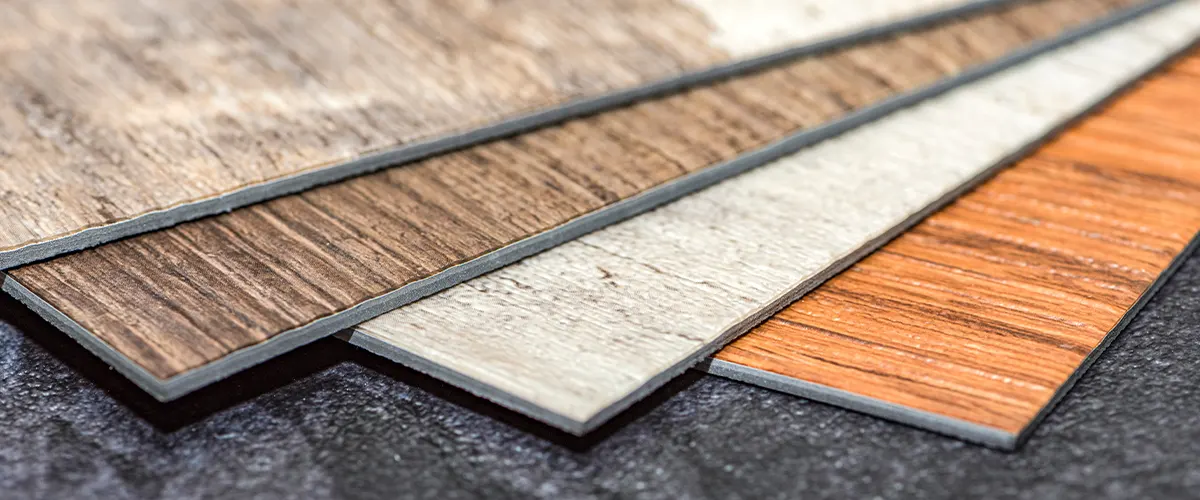 The Only Vinyl Flooring Installer That's Worth Your Time
Are you in pursuit of a fantastic service provider for your flooring venture? You deserve quality results and an effortless transaction experience, but tracking down dependable expertise can be challenging. We want to make it easier on you; let us help!
At our company, we provide a comprehensive flooring service that is truly worth your investment. We take great pride in making sure that you are ecstatic with the results at every phase of installation. When it comes to ensuring customer satisfaction, we not only meet your expectations but exceed them – leaving no square inch unaccounted for!
With us, you're getting:
Complement Your Home With High-Quality Vinyl Flooring!