The Best Hardwood Floor Installation In Oakdale, CA
Get new, durable floors without the elbow grease!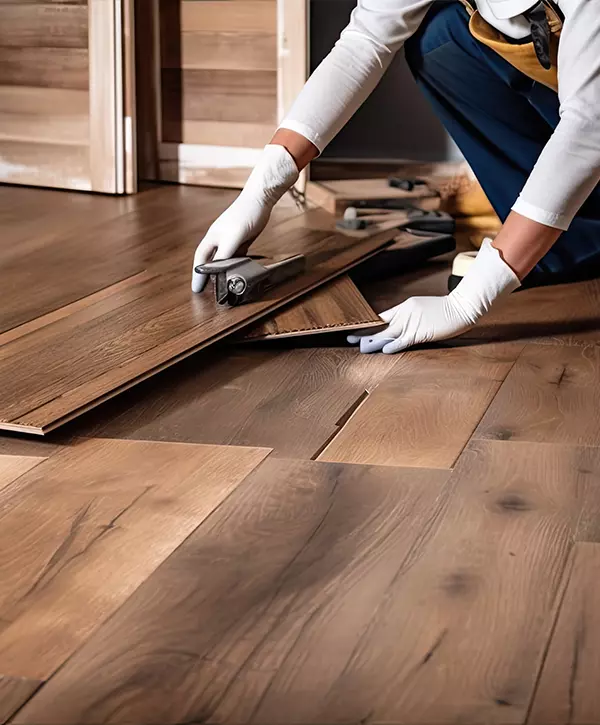 Are you a homeowner in Oakdale, CA, considering a makeover for your space? Hardwood flooring is the answer you've been waiting for! Not only does it elevate the elegance of your home, but it also increases its value drastically.
At KHB Flooring, we're not just about providing a service; we're about creating transformations. With our top-notch hardwood floor installation in Oakdale, CA, we can bring your vision to life. Our experienced team guarantees a seamless process, ensuring your satisfaction every step of the way.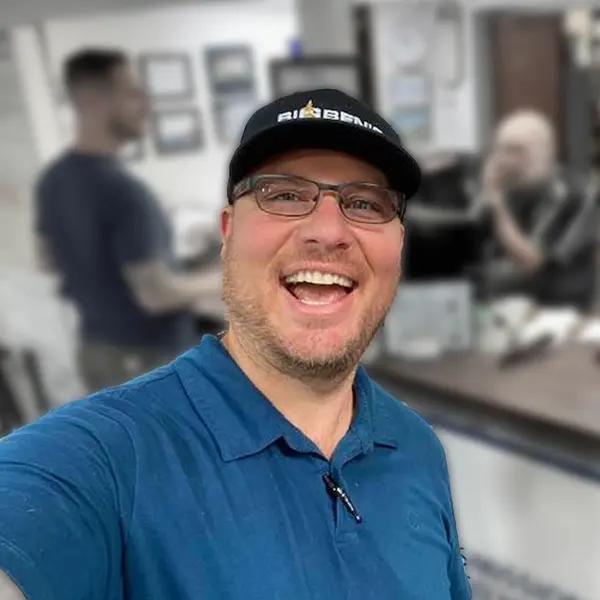 Ben Manship – One of the three owners of KHB Flooring
Hi, I'm Ben, one of the three owners of KHB Flooring. I have had a passion for carpentry and wooden floors since I can remember. I've completed over 5,000 flooring projects and have seen every major issue that wood floors can have. I partnered with Bobby and Ryan to offer you an even better flooring service and raise the bar for every other flooring company in Tracy, CA.
Hardwood Flooring Installation - Now With Extra Perks
When it comes to hardwood flooring installation, KHB Flooring stands unrivaled. We offer unmatched expertise, a passion for perfection, and a personal touch. Our attention to detail, relentless commitment to quality, and unwavering dedication to customer satisfaction set us apart as the premier choice in Oakdale, CA.
Experience the KHB difference today:
Want Durable Floors That Could Look Like These?
Let the beautiful transformations we've effected speak for themselves, and inspire you to envision the potential of your own space.
If you have further questions or want to schedule an installation, please don't hesitate to call us at (209) 487-9663. Alternatively, you can fill out our contact form and we'll get back to you within one business day. We're always here to assist you.
Your Neighbors Loved Working With Professionals
At KHB Flooring, we believe that our work speaks louder than words. Our commitment to excellence permeates every aspect of our business, from the initial consultation to the final finesse on your new hardwood floor.
Patient with this little old couple, highly efficient, professional, and friendly. Great work! Love our floor! Hoping to get more of our floors done.
Big Ben's is top notch! They use very high quality products, at affordable prices. If you are looking to replace flooring or carpet, you can't go wrong using Big Ben's!
Hardwood Flooring Installation Cost In Oakdale, CA
If you want to know more about hardwood flooring installation cost in Oakdale, CA, be prepared to spend anywhere from $4.99 per square foot up to $25 per square foot. The final cost will depend on various factors, such as the installation complexity, including inserts, herringbone patterns, borders, medallions, and more.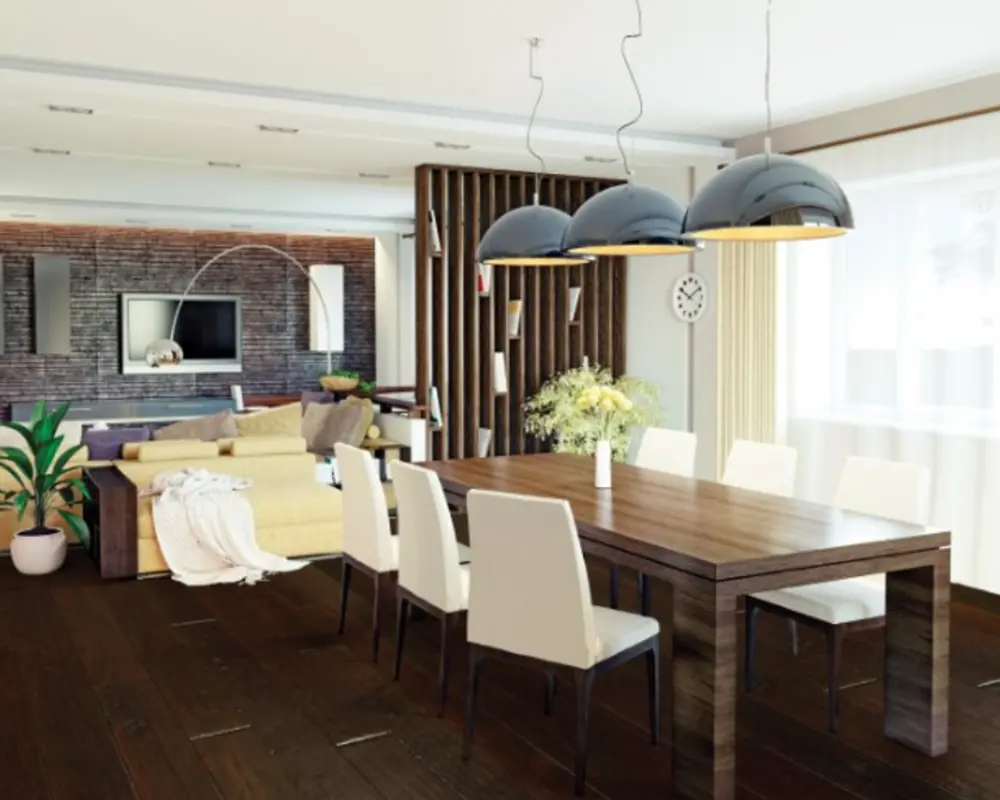 Entry-Level Hardwood Floor In Living Room
This 280 sq. ft. living room hardwood floor included:
The project was quoted at $$4,270, where the glue-down installation alone was $1,397.
| MATERIAL | INSTALLATION COST | MATERIAL COST | AVERAGE TOTAL COST PER SQUARE FOOT |
| --- | --- | --- | --- |
| Engineered Hardwood | $3 - $10 | $3 - $11 | $6 - $21 |
| Solid Hardwood | $3 - $10 | $8 - $15 | $11 - $25 |
| Prefinished Hardwood | $3 - $8 | $3 - $10 | $6 - $18 |
| Faux Parquet | $3 - $5 | $4 - $10 | $7 - $15 |
| Genuine Parquet | $7 - $20 | $8 - $20 | $15 - $40 |
Hardwood Flooring Materials Price Per Sq. Ft
| Hardwood Type | Cost Per Square Foot |
| --- | --- |
| Pine | $2 - $4 |
| Bamboo | $2 - $4 |
| Red Oak | $2 - $6 |
| Maple | $3 - $6 |
| Hickory | $3 - $6 |
| White Ash | $5 - $6 |
| Brazilian Walnut | $5 - $9 |
*Please note, the prices mentioned above are subject to change based on market conditions, the specific materials chosen, and the complexity of the installation process. For the most accurate and up-to-date pricing, we recommend reaching out to us directly.
Make Budget And Time Worries A Thing Of The Past
Investing in a home upgrade like hardwood flooring can be daunting, largely because of concerns about cost and time. At KHB Flooring, we get it. That's why we offer competitive pricing and guarantee efficient installation timelines.
Rather than spending money on recurring carpet cleaning services, or constantly replacing worn-out linoleum, investing in hardwood flooring is a one-time cost that pays dividends in the long term. Not only does it require less maintenance, but it also lasts longer, contributing positively to your home's resale value in ways that less durable flooring simply can't match.
We understand the importance of punctuality and meeting deadlines without compromising on the quality of our work. Our team is committed to ensuring that our hardwood flooring installation process causes minimal disruption to your daily routine.
3 Steps To Long-Lasting Hardwood Floors
Without further ado, allow us to guide you through the process we follow at KHB Flooring to transform your spaces with beautiful and long-lasting hardwood floors. It's simpler than you might think!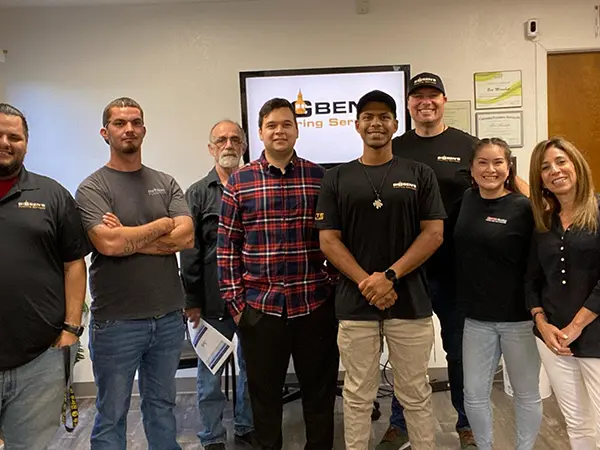 Our team works closely with you, tailoring designs to your tastes.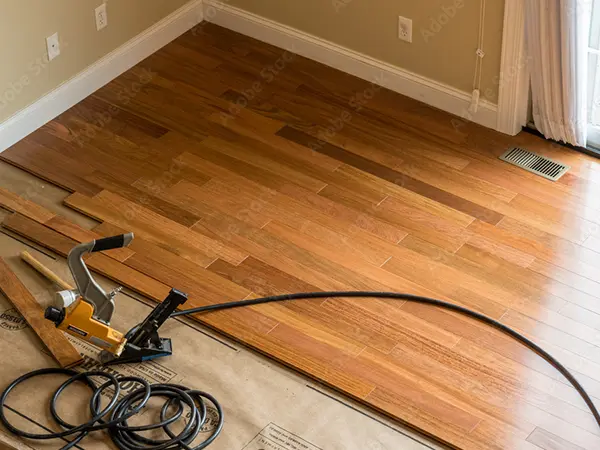 We efficiently install your hardwood floors, respecting your space and time.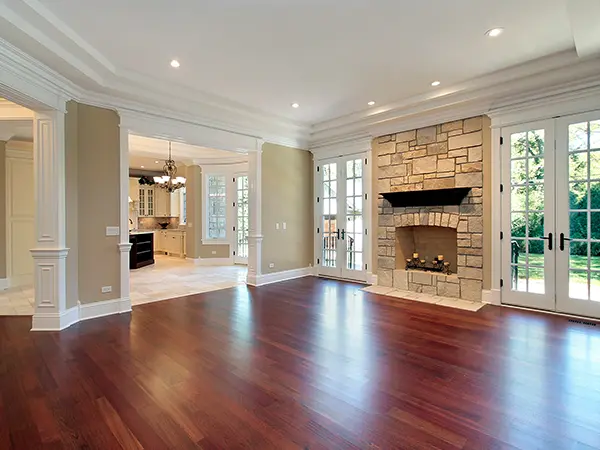 Revel in the beauty and durability of your new floors.
Frequently Asked Questions
The type of hardwood flooring best suited for you greatly depends on your personal preferences, the environment in which it's being installed, and your budget. Here are a few popular choices:
Oak: Oak is highly resistant to damage and comes in a beautiful range of natural colors.
Maple: Known for its light, subtle grain and great durability, maple stands up well in high-traffic areas.
Hickory: If you're looking for something more unique, hickory has a rustic charm and handles heavy foot traffic well.
Cherry: Cherry is cherished for its smooth, rich, and warm color that deepens with age.
Walnut: Walnut flooring is both soft and strong, offering a distinctive and appealing look.
Remember, each type of hardwood has its pros and cons, and what works best in one home might not work as well in another. We recommend consulting with our experts to make an informed decision.
Hardwood generally lasts longer than laminate. Hardwood can last for generations when properly maintained, while a good quality laminate might last for about 20-30 years.
However, the lifespan of both materials also depends on factors like the quality of the product, the amount of foot traffic it endures, and how well it's maintained.
Hardwood may require refinishing over time, but this can often restore them to their original beauty. Laminate, on the other hand, cannot be refinished.
Once it wears out, it needs to be replaced. But, laminate is often chosen for its cost-effectiveness and easier installation process. The choice between the two often comes down to personal preference, budget, and lifestyle.
Both nailing and gluing are common methods for installing wood flooring, and the best method depends on the type of wood and subfloor. Nailing, often used for solid hardwood floors, involves fastening the floorboards to the subfloor with a special flooring nailer and mallet. This method allows for natural expansion and contraction, which is crucial for solid wood.
Gluing, on the other hand, is typically used for engineered wood floors. In this method, adhesive is applied to the subfloor, and the planks are set in it. Gluing can provide great stability, but it requires a clean, dry, and level subfloor.
There's also a third method, known as floating, which is becoming increasingly popular. In this method, the planks are joined to each other, but not attached to the subfloor itself.
Remember, the best method for your flooring installation depends on various factors, including the type of hardwood flooring, the condition and material of your subfloor, and your specific use case. As always, we recommend consulting with our flooring experts at KHB Flooring for personalized advice.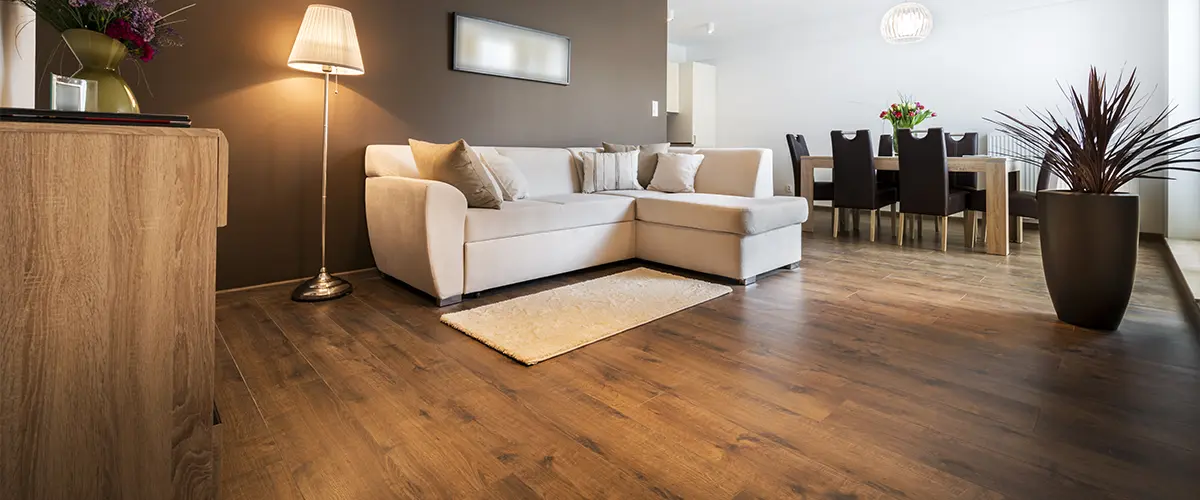 Welcome The Best Hardwood Floor Installation In Oakdale, CA
Don't hesitate to take the next step towards transforming your home with our premium hardwood floors. Get in touch with us at (209) 487-9663, or click the button below to request a free estimate.
Our team of experts is ready and waiting to answer any further questions you may have and guide you through the process of selecting and installing your new hardwood floors.
Excellent service! Big Ben's Flooring is your one stop shop from selection all the way to installation. I'm more than happy with our new flooring throughout my home 🙂
Big Ben and his friendly staff really get the job done! Excellent service and quality product.
Other services you might be interested in:
Nestled on the beautiful foothills of the Sierra Nevada Mountains, Oakdale offers an array of picturesque landscapes, recreational activities, and historic landmarks. Don't miss the iconic Oakdale Cheese Factory, where you can taste some of the finest Gouda and Quark. Visit the Oakdale Cowboy Museum, which captures the rich history and tradition of our cowboy and ranching heritage. Experience the life of the city at the Oakdale Rodeo, a staple event held annually since 1954. And don't forget to take a scenic stroll along the Stanislaus River, a serene location popular for fishing, rafting, and wildlife viewing.