LVP Flooring Installation In Turlock, CA
If you're interested in a LVP flooring installation service in Turlock, CA, our guide has all the information you need!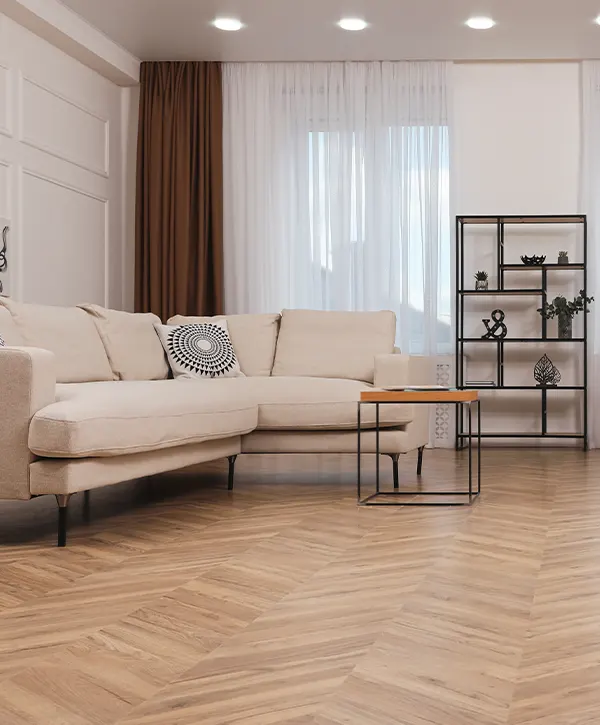 Homeowners in Turlock, CA, are realizing the potential of luxury vinyl flooring and seeking professional installation services. We enjoy working on these types of projects as well.
KHB Flooring is a trusted expert for anything related to flooring in Modesto, CA, and nearby areas. With years of experience in the industry, we are dedicated to bringing beauty back to every home. Homeowners looking to improve their floors can count on us for our passion and commitment to the craft.
Transform the appearance of your home by using our luxury vinyl floor installation service. Our services will enhance the attractiveness of your space, making it visually striking and beautiful. You'll impress anyone who visits your home with this stunning look!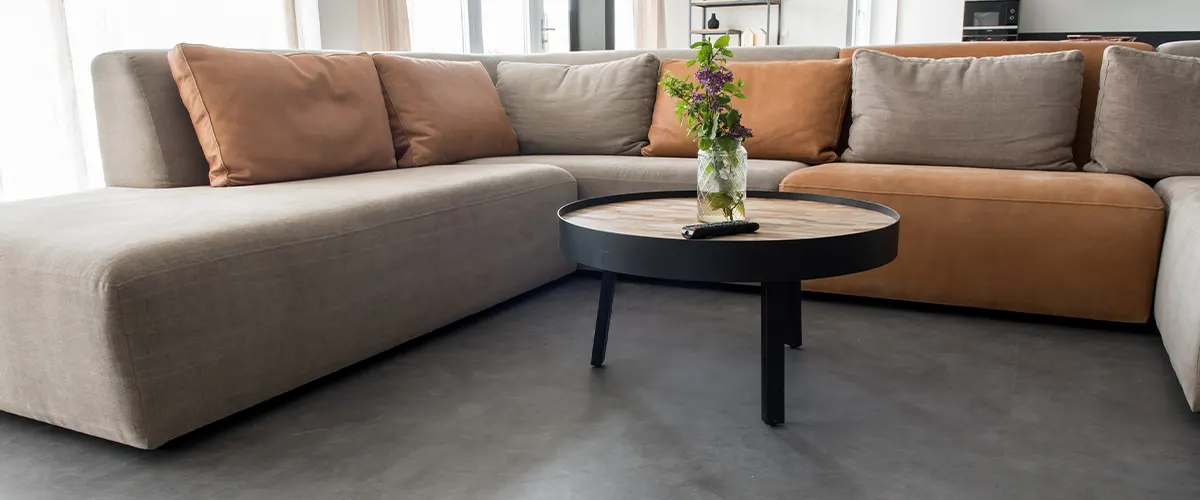 Luxury Vinyl Flooring That Comes With Extra Perks
In order to provide you with an outstanding flooring installation experience, we exceed the terms of our contract. Our objective is to guarantee your full contentment with our services. You can have peace of mind knowing that you will receive extra benefits from a dedicated professional who values their customers and investment.
World-Class Luxury Vinyl Flooring Installation Right At Your Doorstep
At KHB Flooring, we provide high-quality flooring services for your home. We aim to exceed your expectations and leave you completely satisfied with our product.
We assure you of transparent communication and honesty during your luxury vinyl flooring project.
Our team will work hard to make the installation process easy and minimize any concerns you may have about remodeling, thereby reducing the stress associated with such projects.
Our Customers In Turlock Love Their New Floors!
Our experience was very pleasant as well as a pleasant atmosphere. They (Ben and wife) showed us exactly what we wanted. We will soon be having measurements done.
Can't wait for our next visit. His wife set us up for an appointment right away. Very nice experience.
Excellent service! Big Ben's Flooring is your one stop shop from selection all the way to installation.
I'm more than happy with our new flooring throughout my home
Type Of Upgrades And Materials
Different types of flooring will always create unique atmospheres in a home. These differences can include better appearance, increased durability, or easier installation. Your choice of flooring will depend on what factors you are willing to compromise on. Below are some of the top vinyl flooring options available.
Self-Adhesive Vinyl Tiles and Planks
Self-adhesive vinyl tiles and planks have adhesive layers on the back of each piece, which stick with just pressure. To install, peel off the protective layer, position properly, and firmly press down. In case you want to refresh your look in the future, removing these self-adhesive tiles is an easy task.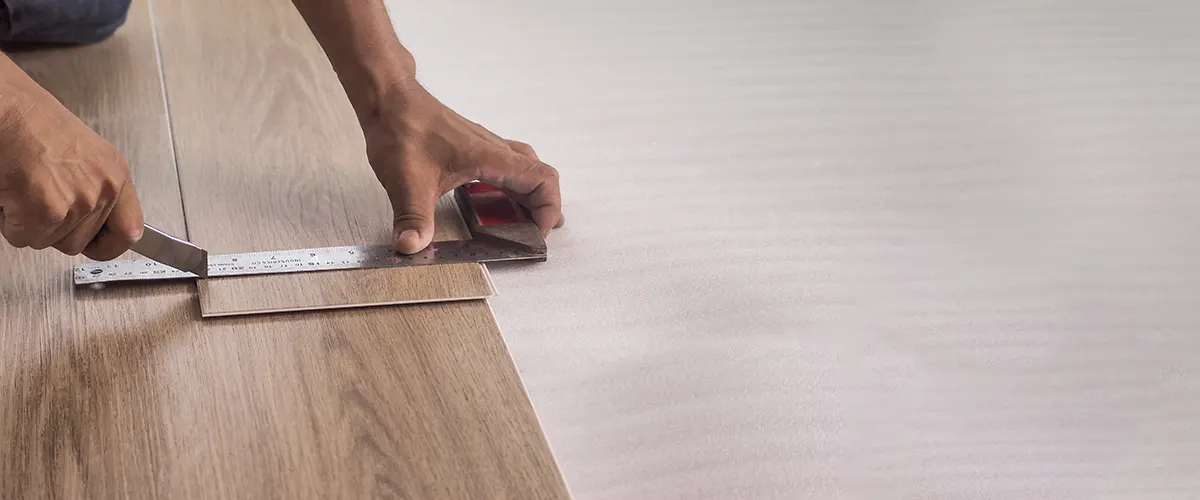 The loose-lay vinyl planks are a type of flooring that can be installed easily without the need for adhesives or locking systems. They rely solely on friction, with the bottom layer providing a superior grip to keep the tiles firmly in place. To prevent the planks from rolling out, you can apply adhesive just around the corners of the room for added security.
Loose-lay vinyl planks are a great flooring choice for several reasons. They can be easily reused and relocated, leaving no marks behind. Additionally, they are highly durable, making them a popular choice for vinyl flooring.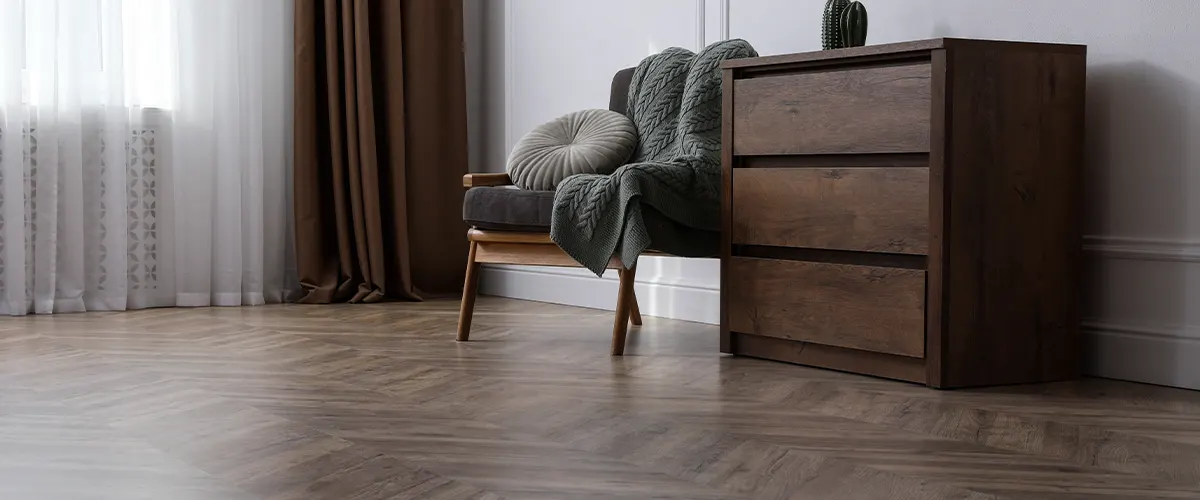 Interlocking Vinyl Tiles and Planks
Interlocking vinyl tiles are a convenient flooring option that do not require any glue or adhesives during installation. Simply connect each tile together by snapping them into place. However, keep in mind that if you need to remove a single tile, you will need to remove the entire row as they are all connected.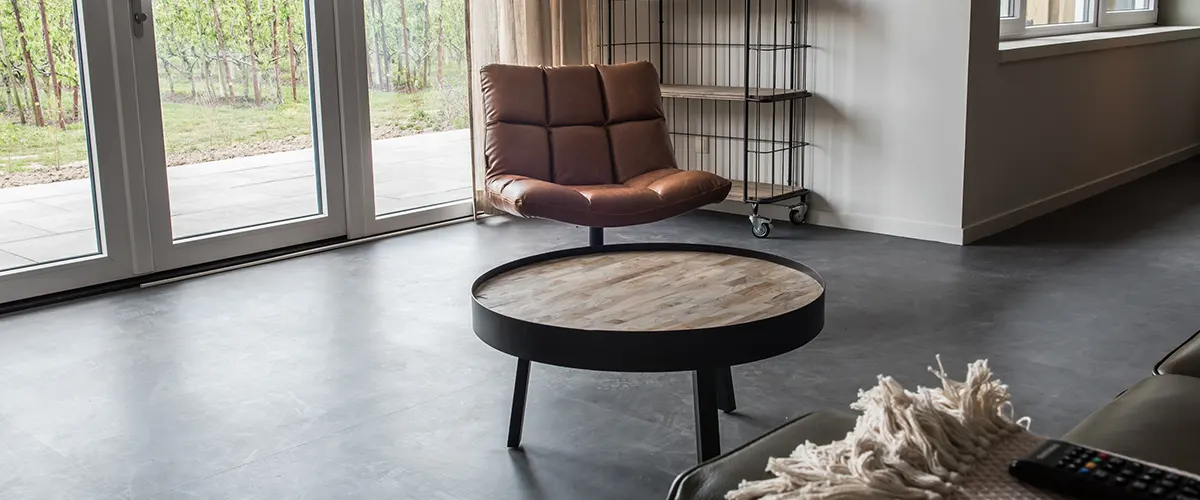 Compared to self-adhesive tiles, installing glue-down LVT flooring can be more complicated as you need a specific type of adhesive that works well with vinyl floors. However, glue-down Luxury Vinyl Tile flooring offers greater durability and is less likely to move or shift when walked upon.
The first step in installing glue-down LVT tiles is to apply adhesive to the ground and firmly press each tile into place. However, removing this type of flooring can be challenging since most adhesives do not melt or dissolve easily. It is recommended to hire a professional with experience in handling this type of flooring for removal.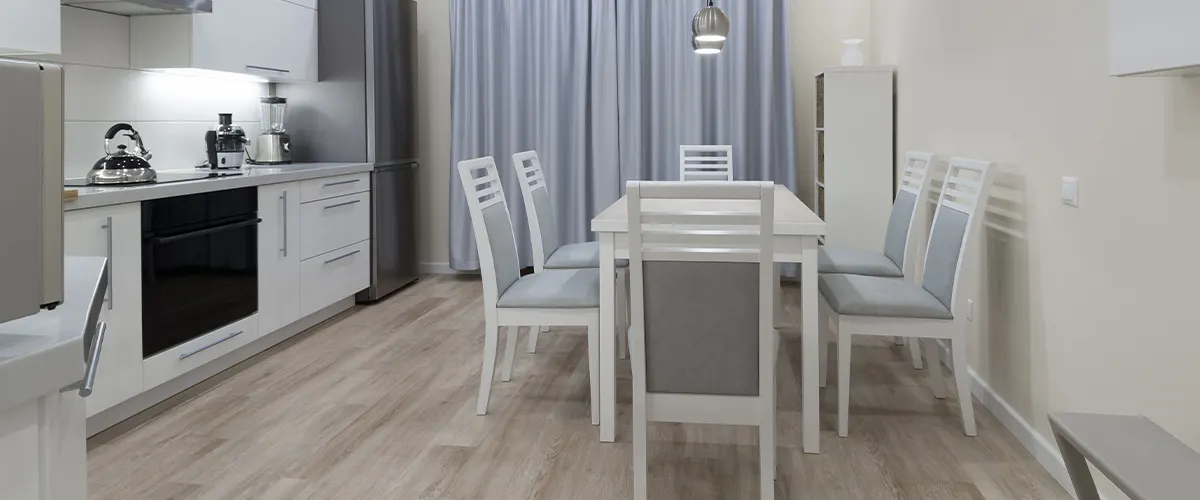 High-Quality Luxury Vinyl Flooring Installation
We are experts in the craft with countless years of experience installing luxury vinyl flooring. Our expertise shines through with every installation – here's a look at our work! !
Luxury Vinyl Flooring Installation - Now Easier Than Ever Before!
Let us make the installation of luxury vinyl flooring a hassle-free experience for you and your loved ones in Turlock, CA. Our process prioritizes you and guarantees seamless results. Sit back and enjoy the beautiful outcome without any stress!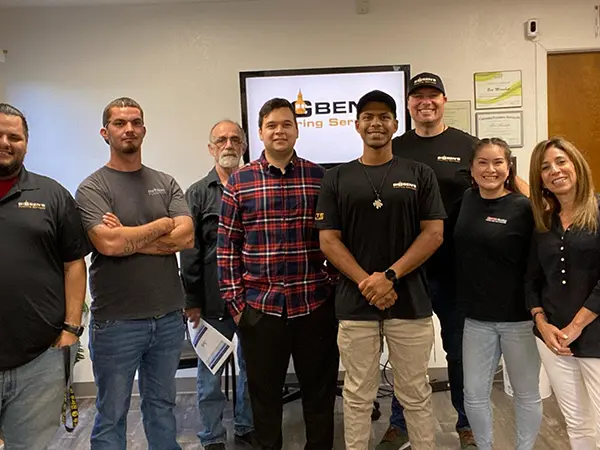 We help you define your vision for your floors.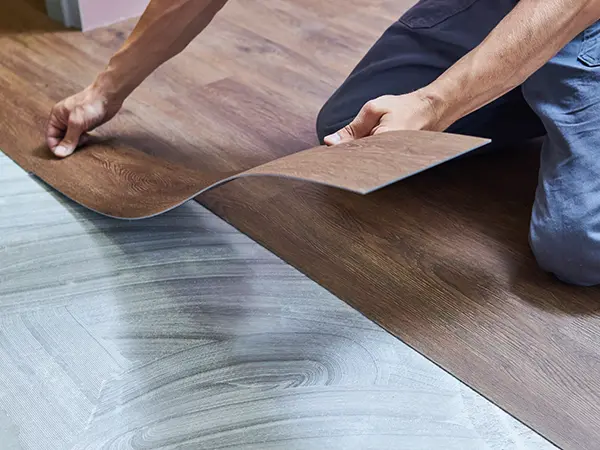 We bring your vision to life with a professional installation.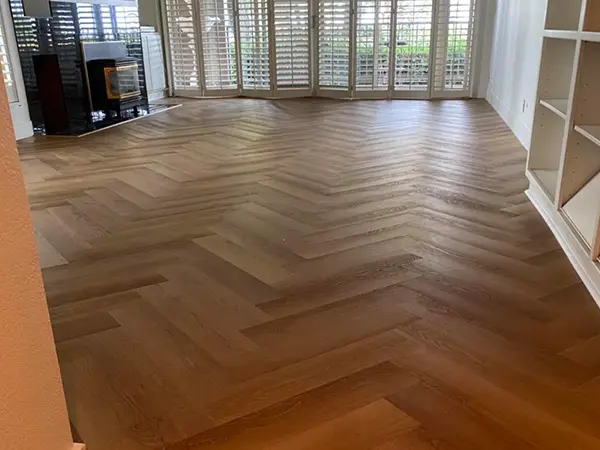 Enjoy floors that will make you smile with every step.
Frequently Asked Questions
If you are searching for an affordable and dependable option to update your flooring in Turlock, CA, consider luxury vinyl plank (LVP) flooring. It has a cost-effective price point, ranging from $2.55 to $3.99 per square foot, which varies based on the size and style of material chosen.
The time it takes to install an LVP (Luxury Vinyl Plank) flooring system can vary depending on factors such as the size and complexity of the layout or the condition of the underlying subfloor. Typically, we can install 300 to 600 square feet per day. For a three-bedroom, two-bathroom house, the installation process would take around 5-7 days on average.
At KHB Flooring, we have a highly skilled team of in-house installers who are all trained and ready for your project. The number of workers assigned to your flooring task will depend on its size, ranging from one to three professionals at a time.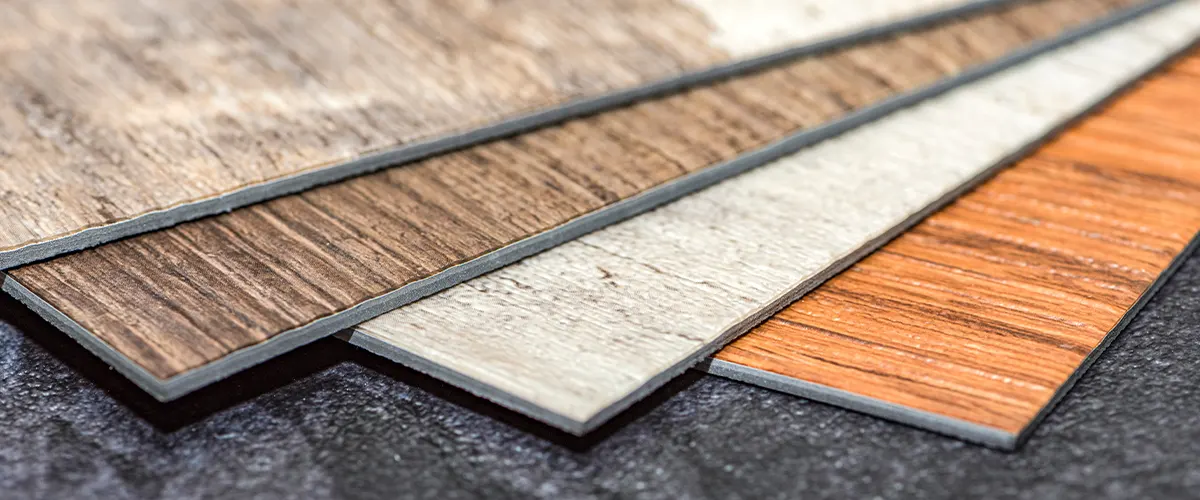 The Only Luxury Vinyl Flooring Installer That's Worth The Investment
In search of an exemplary service provider for your flooring project? Of course, you want a great-looking finished product and an effortless transaction experience. We understand that finding such reliable expertise is no easy task, so we are here to help.
Our company provides a flooring service that is thorough and valuable. We aim to meet or exceed your expectations in every aspect, ensuring that you are completely satisfied with every inch of your new floor.
Besides a new LVP floor, you'll also get:
Complement Your Home With High-Quality LVP Flooring!