If you're planning to install new laminate flooring in your home, you'll probably want what's best for it. Well, laminate flooring is a material that constantly evolved and got better in the last few years, so the options out there are countless.
Working with a professional in your flooring project will help you choose the material that best suits your needs and even offer some alternatives that you might be interested in.
Here at KHB Flooring, we like to take things a notch further, so we got a complete guide on how to choose the best type of laminate flooring for your home.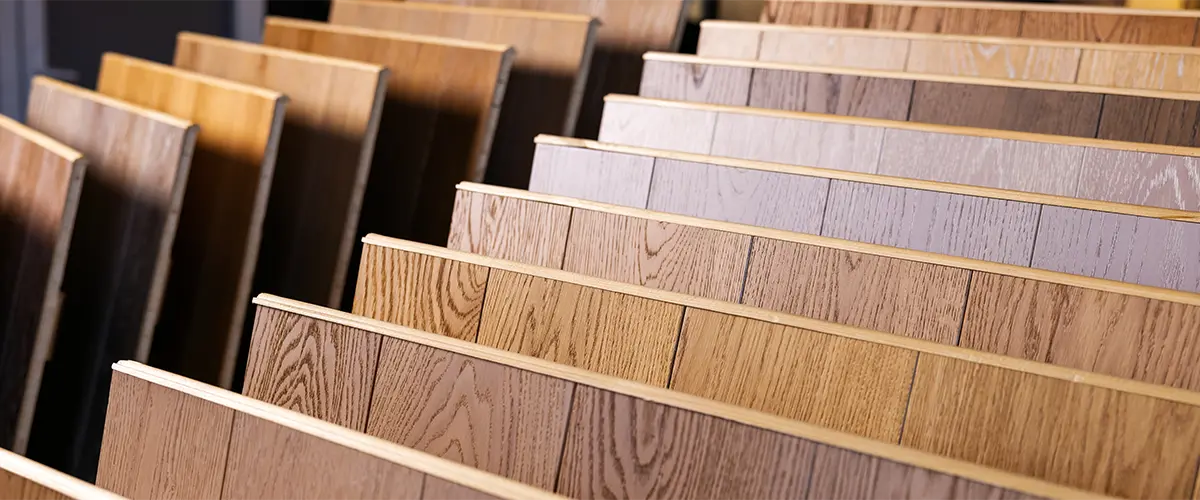 What Is Laminate Flooring Made Of
Laminate flooring is a type of flooring that consists of four layers: wear, décor, core, and backer. These layers are fused during the lamination process to create an attractive and cost-effective material that is popular with homeowners not only in their kitchens but throughout their homes.
There are two types of laminate sheets: low-pressure laminates and high-pressure laminates. 
Additionally, there are fire retardant and electrostatic dissipative laminates available, although they are not commonly used in residential projects.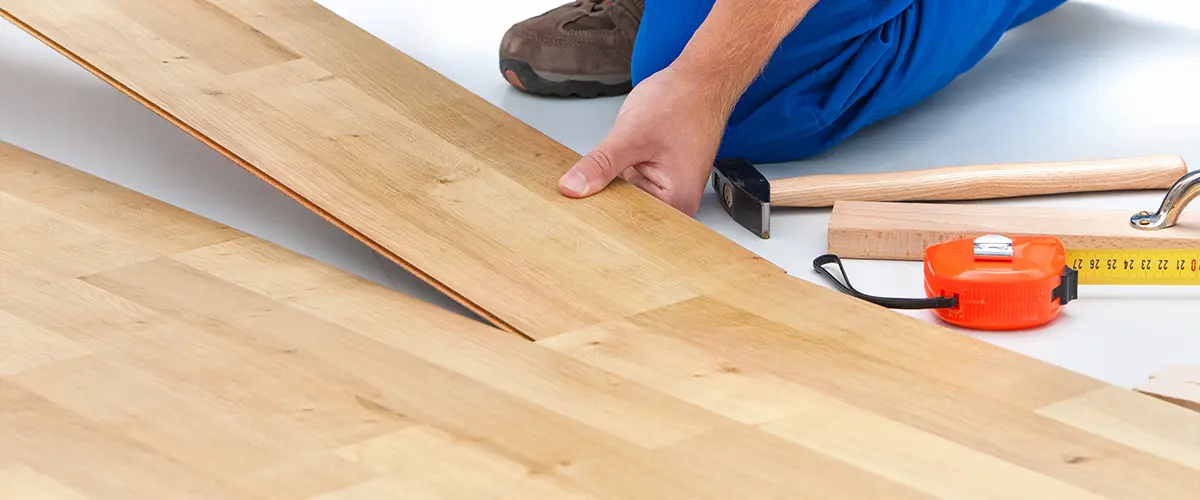 Benefits Of Laminate Floors
This almost synthetic material has all the perks of man-made materials, and the beauty of natural materials, without their down
Laminate flooring is extremely durable, making it perfect for areas with high foot traffic. Although not a waterproof floor, it's still much more water-resistant than natural wood.
Laminate is a low maintenance flooring that's easy to clean and maintain, requiring only a vacuum cleaner or damp mop for regular maintenance.
Laminate floors are an affordable option compared to other types of flooring, such as hardwood or tile. Even in large living rooms, installing laminate is highly affordable.
The wear layer of laminate flooring offers protection against scratches and stains, making it ideal for busy households with children and pets.
With a variety of styles and colors available, you can easily find the perfect look for your home! Gray laminate flooring remains the most popular option among homeowners.
Laminate floors mimic the look of natural wood, without all its downsides. This material looks beautiful and complements any home style!
While plastic laminate flooring may not be as natural as other options, it can be a more affordable alternative, costing about half as much as engineered wood laminate.
It's also advantageous for busy, spill-prone areas because it's waterproof and resistant to damage and stains.
Moreover, manufacturers have significantly improved the appearance of plastic laminate to closely resemble wood, stone, tile, or other materials.
If you prefer real wood but still want the benefits of laminate flooring, engineered wood flooring might be a good option.
It consists of layers of real wood and acrylic lamination. However, it is typically twice as expensive as plastic laminate and is less resistant to water and damage.
But unlike plastic laminate, it can be sanded and refinished a few times to extend its lifespan.
The beauty of laminate flooring stands in its similar look to real hardwood and its benefits. Our recommendation would be engineered wood laminate, as this simply looks much better in a home.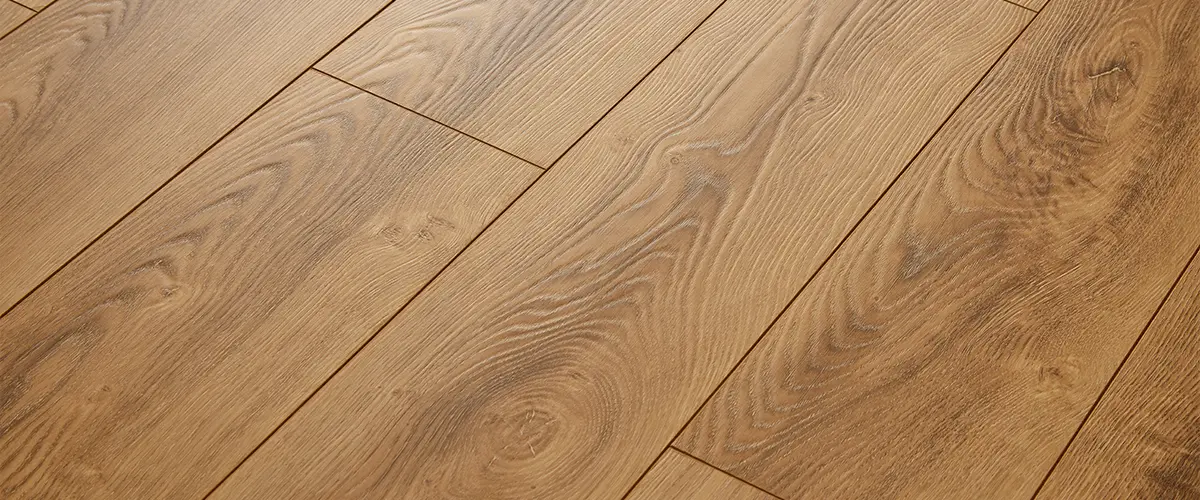 Top 5 Laminate Flooring Brands
Although we love working with the best laminate floor manufacturers in the game, sometimes homeowners have a different budget in mind. In that case, we offer our best choices for laminate flooring brands, so you can choose something that fits your budget and preferences.
Established in 1973, Kronotex is a leading laminate flooring manufacturer with over 60 years of experience. Their products are made from high-quality wood particles and are known for their durability, scratch resistance, and easy installation. They offer a wide range of style options and colours to choose from, and their laminates are among the most affordable on the market.
Armstrong is a renowned flooring manufacturer that has been around for over 150 years. They offer an extensive selection of laminate products, ranging from rustic to modern designs with different thicknesses and textures. Their laminate flooring looks great, offers superior strength and performance, and can be installed quickly.
Founded in 1977, Pergo is one of the foremost laminate flooring manufacturers in the world. Their products feature an exclusive technology that makes them more resistant to scratches, dents and fading than other laminates. They also offer a wide variety of designs, styles, and finishes that can fit any décor.
Shaw Floors is a well-known manufacturer of laminate flooring with a variety of styles to choose from. Their floors are durable, easy to install and maintain, and come in different thicknesses. Furthermore, they offer attractive warranties on their products so you can rest assured that your floor is well-protected.
Founded in 1996, Quick Step is a leading laminate flooring manufacturer that offers contemporary designs and rustic looks alike. Their laminates feature patented technology that makes them more resistant to moisture and wear than other brands. They also come with durable coatings to protect against stains and scratches.
The Cost Of Laminate Flooring
Although compact laminate sheets are usually inexpensive, quality laminate flooring can be quite pricey, rivaling the cost of natural hardwood or tile floors.
Keep in mind that laminate sheets have benefits such as resistance to scratches and dents and being water-resistant, which solid wood species do not possess.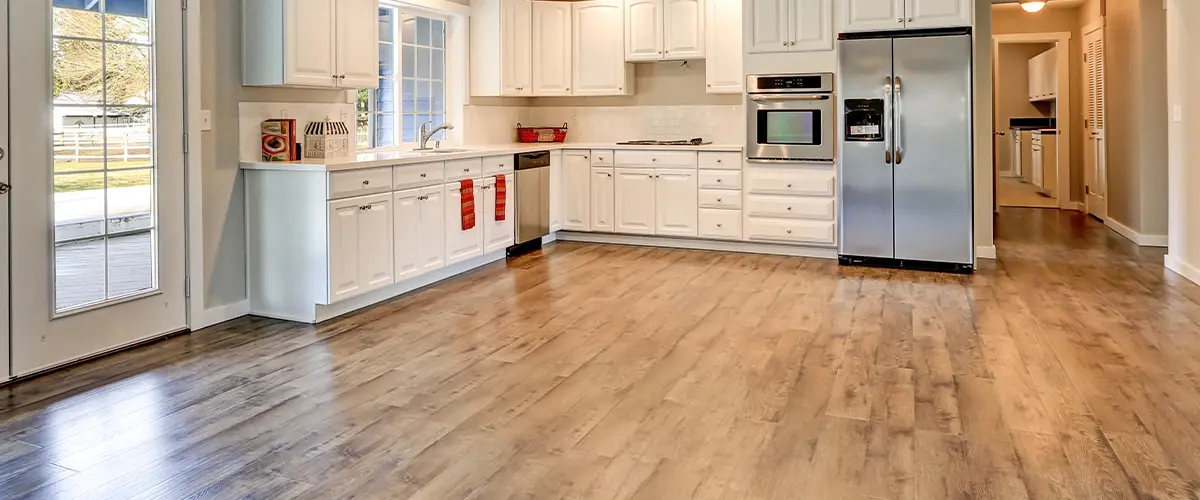 Although far from being the best type of floor, laminate is a popular option for homeowners who want a budget-friendly remodel without sacrificing their floors' quality.
The best type of laminate flooring will be the one that fits most of your preferences and needs. There's no universal truth, but our best recommendation would be a medium- to high-quality laminate floor that resembles a hardwood floor, like walnut or cherry.
At KHB Flooring, installing laminate floors is actually one of our most common project here in Modesto, Turlock, Tracy, and surrounding areas. Homeowners seem to love this type of floor, and we're more than happy to serve them!
If you want to find out what would be the best laminate floor for your particular situation, give us a call at (209) 487-9663 and our designers and carpenters will ensure you're getting a beautiful new floor!