Introducing vinyl kitchen flooring into your home is a great way to add style and personality. It can be both affordable and durable, making it an ideal choice for kitchens that receive a lot of traffic.
Are you looking for stylish ways to update the look of your kitchen on a budget? This guide has all the tips you need to create the perfect kitchen with luxurious vinyl flooring. From installing bold colors and patterns to finding design inspiration from other materials – we'll show you how easy it can be to spruce up your kitchen with budget-friendly yet attractive designs.
Read on to learn how vinyl flooring can help you transform any space.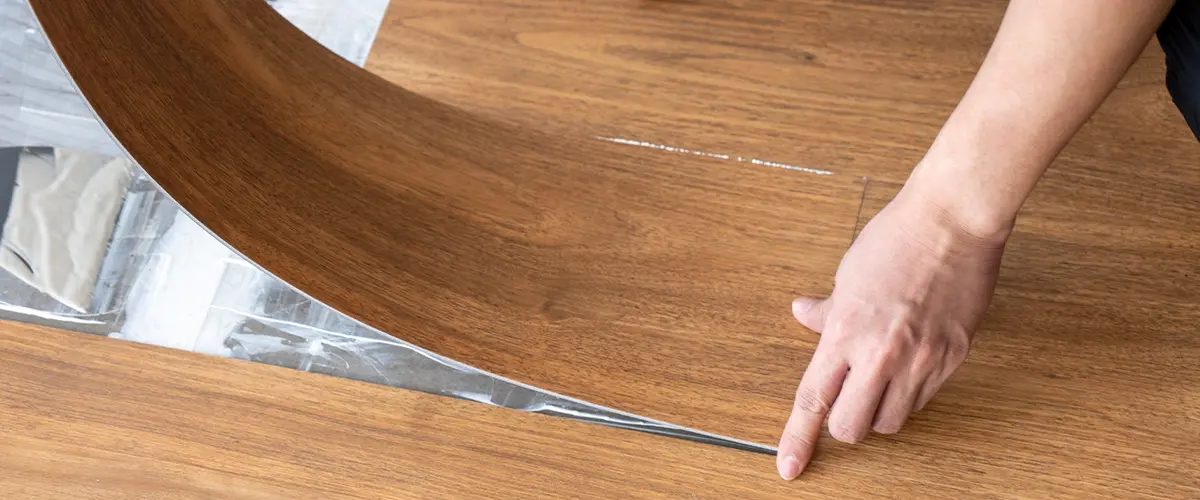 Practical and Affordable Vinyl Kitchen Flooring Ideas
Vinyl kitchen flooring can provide a practical and affordable option for homeowners looking to upgrade their kitchen décor without breaking the bank, with elegant tile designs, dark wood effects, bold colors and shapes, as well as warm gray tones.
Elegant tile designs can help spruce up any kitchen with a touch of sophistication and flair. From classic mosaic tiles to modern large-format tiles, there are various options that can add visual interest and character to the space.
Mosaic tiles, often found in Victorian bathrooms or Mediterranean kitchens, tend to be intricate patterns in various colors; patterned tiles featuring shapes such as hexagons are becoming increasingly popular; while large-format tiles offer a more minimalist and contemporary look.
Luxury vinyl tile is the perfect way to emulate these elegant stone and ceramic looks without sacrificing budget or performance – it's remarkably water-resistant, durable enough for high-traffic areas such as kitchens, provides soundproofing benefits through its cushiony surface underfoot, and requires no grout, which means less maintenance.
With so many resources available like Home Depot's vinyl kitchen flooring selection – you'll have plenty of ideas at your fingertips when seeking out an elegant design option suitable for your home.
Vinyl plank flooring provides an affordable and practical solution to achieve a dark wood effect in the kitchen. Hickory is often used for luxury vinyl tiles to give the room gorgeous color variations ranging from deep browns to reds and light tans.
Unlike solid hardwood flooring, vinyl offers durability and a scratch-resistant surface suited well for high-traffic kitchens. The realistic wood planks effectively emulate more expensive design styles, such as marble or stone floors, without overstretching budgets with its cost-effective pricing options.
DIY enthusiasts can find peel-and-stick or easy adhesive laying methods that will certainly add style to any space at a minimal cost yet still add grandeur and style appeal.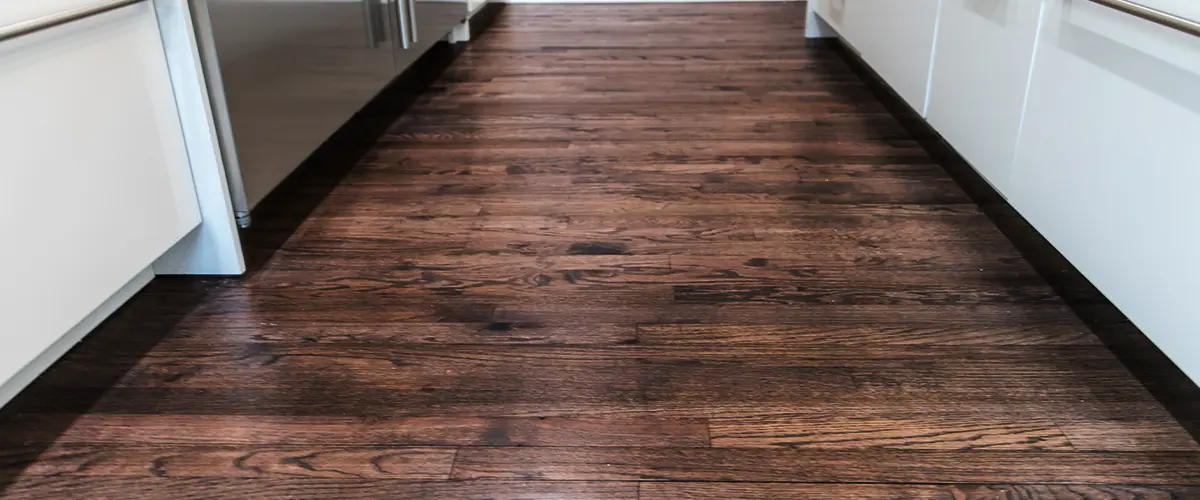 Vinyl kitchen flooring can be a great way to add versatility and visual interest to your home. The range of vinyl designs available has revolutionized the options for renovating or updating a kitchen area.
This luxurious material is highly durable, budget-friendly, and noise-reducing – making it an ideal choice for busy households. Vinyl tiles come in various sizes, shapes, colors, and patterns that can effectively emulate materials such as wood planks, natural stone slabs, or ceramic tiles – so you're spoiled for choice.
One popular option is incorporating bold colors and shapes into your vinyl kitchen flooring design, which instantly adds personality and vibrancy to the space.
Whether you opt for vibrant hues among warmer-toned tiles to create contrast, mix a variety of bold color combinations, or commission creative geometric layouts to imbue modern flair – this low-maintenance option will give any kitchen an eye-catching aesthetic while preserving its practicality.
Vinyl kitchen flooring has a range of options that can seamlessly fit into the most sophisticated of environments, and warm gray tones are no different. It adds an element of luxury to any kitchen with its versatility, as it can mimic many more expensive materials like hardwood, ceramic, marble, or stone – providing a perfect look without breaking the bank.
Its durability makes it extremely resistant to scratches and scuffs, and its high water resistance, coupled with low maintenance requirements, makes warm gray tones suitable for busy households.
Not only does it give your home an elegant edge, but having multiple layers provides additional insulation too. Whether in large sheets or small squares, overlaid on living areas or combined with other natural materials such as wood-effect vinyl for separate dining – you'll find warm gray tones effortlessly transform kitchens into contemporary style havens.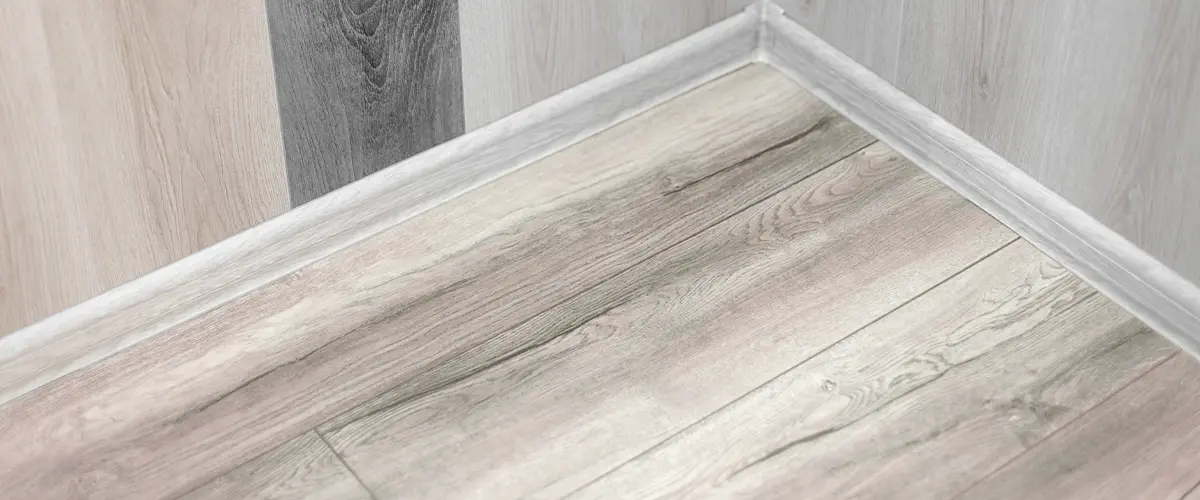 Creative and Stylish Vinyl Kitchen Flooring Ideas
From mixing colors and patterns to emulating expensive materials – vinyl kitchen flooring provides endless possibilities for creative and stylish designs.
Emulating Luxury Materials
Vinyl flooring is an economical and durable alternative to traditional wood or stone materials, allowing homeowners to enjoy the look of luxury in their kitchen without breaking the bank.
Through modern manufacturing techniques, vinyl tiles now come in a huge range of detailed and realistic patterns meant to simulate high-end materials such as hardwood, ceramics, travertine, marble, slate, and more.
These patterned options let users control every aspect of their design – from color accents to texture depth; they can even mix multiple looks together into one stunningly unique room layout.
And with contemporary gloss finishes that add light reflection properties for added realism, these floors can so convincingly replicate their natural counterparts that it's almost indistinguishable from actual wood or stone surfaces.
With vinyl, there will be no maintenance worries either – many are scratch-resistant and highly water-repellent, meaning they are perfect choices for kitchens where spills occur regularly yet still maintain resilience under heavy foot traffic use.
Mediterranean-Style Encaustic Tiles
Their intricate and stylish designs can bring character to any space, while being incredibly practical when it comes to cleaning – all without breaking the bank compared to other expensive design styles.
Furthermore, you now have the option of choosing vinyl flooring that effectively emulates this tile style, as well as being more cost-effective and able to withstand high-traffic areas in busy households, making it perfect for kitchens.
Vinyl kitchen flooring offers a range of creative and stylish design options that can transform the look of any space. Geometric layouts are an increasingly popular choice, adding a graphic element to your floors with abstract shapes, bold lines, and unique designs.
Modern geometric layouts create dynamic visuals, perfect for introducing texture and color into your kitchen space without sacrificing practicality or durability. Luxury vinyl tiles allow you to experiment with larger patterns and more intricate designs that effectively emulate stone or wood materials in a highly water-resistant product.
Choose from multiple layers of square foot styles, including honeycomb shapes, cobblestone effects, diamond motifs, or octagonal tiling – all made easy to install since no individual pieces require gluing down.
Benefits of Vinyl Kitchen Flooring
Vinyl kitchen floors offer homeowners durability and longevity, cost-effectiveness, versatility with any kitchen style, as well as easy maintenance and noise reduction.
Vinyl kitchen flooring is known for its exceptional durability and long-lasting nature, able to take whatever life throws your way. Resistant to spills, scuffs, dents, dings, and water damage, vinyl is a great choice for areas with a lot of foot traffic, like the kitchen.
One of its benefits compared to wood floors is that it can last upwards of 10-20 years if installed and maintained properly – this makes it incredibly cost-effective since you don't have to worry about replacing or refinishing them over time.
Additionally, vinyl's low maintenance requirements make cleaning up after accidents fast and easy—leaving more time to actually enjoy your kitchen.
Vinyl kitchen flooring is an attractive and affordable alternative to more expensive options, such as wood or natural stone. It is also highly durable and resistant to water damage compared to other materials, making it ideal for kitchens that are prone to spills.
And thanks to its protective wear layer, luxury vinyl floors require minimal maintenance. The installation process of vinyl flooring tends to be quicker and easier than some other types of flooring too—there's no need for nailing or gluing many luxury planks together—allowing homeowners the flexibility of generally completing renovations in a short period of time without breaking the bank.
With its incredible cost-effectiveness, variety in design elements available, durability, and ease of care considerations accounted for. Vinyl kitchen flooring can help make improvements at home quite easy on the pocket.
Versatility with Any Kitchen Style
Vinyl flooring is highly versatile, as it can effectively replicate the look and feel of other materials such as wood, brick, and tile. This makes it a great choice when sprucing up your kitchen floors, as you can choose from a host of design options that provide you with great flexibility in terms of style.
Whether you are looking for a traditional hardwood-style effect or something more contemporary, like bold colors and shapes, you will be able to find an array of vinyl flooring designs that suit virtually any kitchen aesthetic.
For instance, you could opt for elegant tile designs with warm gray tones for a timeless look, luxurious natural stone patterns with luxury vinyl tiles installed on underfloor heating if your budget allows, or modern geometric layouts mixing colors and patterns to create a larger impact.
Easy Maintenance and Noise Reduction
Vinyl kitchen flooring offers convenient and low-maintenance upkeep for busy homeowners, eliminating the need for excessive cleaning or scrubbing. This type of flooring is water-resistant, making it an ideal choice in areas prone to spills or moisture like kitchens.
It also comes with noise reduction, helping to buffer sound between floors and reduce echoes within rooms such as kitchens. Vinyl tile flooring helps insulate the room temperature so homeowners can enjoy their cooking experience all year round without too much fluctuation due to colder months.
Additionally, vinyl kitchen flooring has durable features that make it resistant to scratches and heavy foot traffic – perfect for high-traffic areas within a home's interior – making them last for years on end while staying easy to clean up afterward.
Our team at KHB Flooring is ready to tackle your vinyl floor installation project, regardless of whether you're looking to upgrade your kitchen, revamp your dining room, or a build a new home office. 
Get in touch with at (209) 487-9663 and we'll schedule a consultation to get started on upgrading your home!